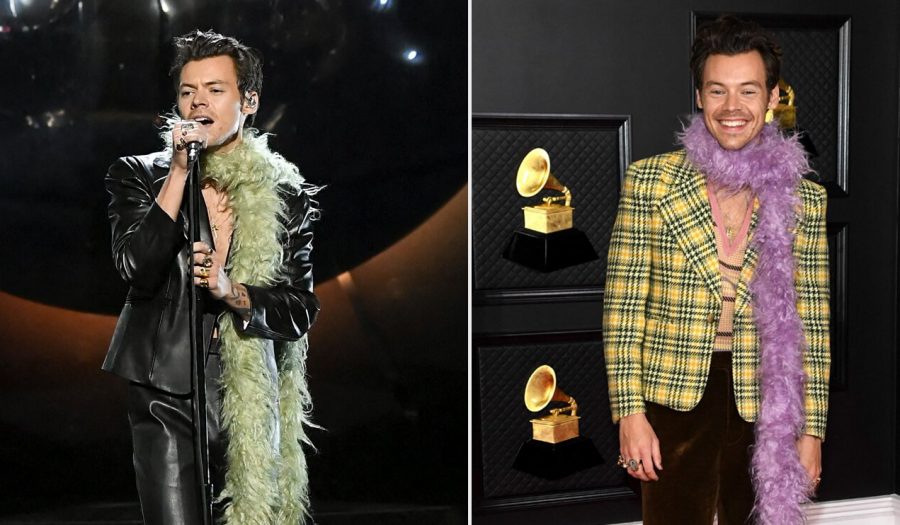 Getty Images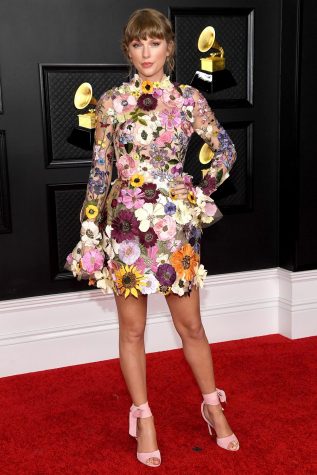 It was flowers, glitter, and high slits galore at the 63rd annual Grammy Awards! The event this past Sunday involved an intimate, outdoor ceremony with the biggest music-names in attendance. There were live performances from Billie Eilish, Post Malone, Megan Thee Stallion, and many more. Although these were entertaining, the real star of the show was the fashion.
Let's start with Album of the Year recipient, Taylor Swift.
After releasing not one, but two chart-topping albums this year, Swift hit the red carpet with confidence. Her bold, statement dress was paired with dainty Christian Louboutin heels. Brilliantly matching her recent aesthetic of floral-woodsy vibes, Swift's look was a personal favorite. Paired with simple gold jewelry, she could not have picked a more Taylor outfit.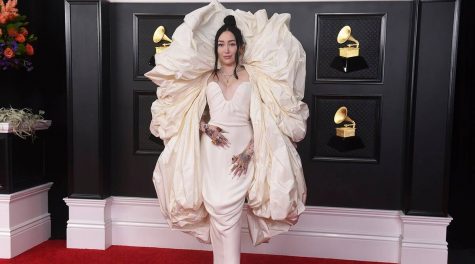 As for an ensemble that missed the mark? Noah Cyrus's dramatic, Schiaparelli gown. Albeit, the dress was a bold choice which I find impressive, the execution was not outstanding. The drapey, wedding gown-like piece was accompanied by an oversized cape detail. The saviors of this outfit were the gold, jeweled accessories. Their pop of color and bling made this look less bridal and more runway-ready.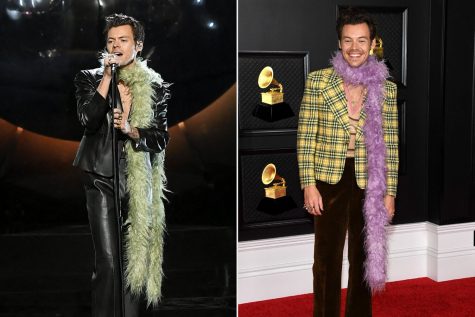 Known for taking fashion risks, Styles stayed very true to his personal style (no pun intended). His head-to-toe Gucci ensemble featured flared velvet pants, a plaid sweater vest, and a mismatched, Clueless-esqe blazer. Paired with pale yellow loafers and a purple feathered boa, this getup was slightly chaotic. However, very honorable mention to the ensemble he rocked during his jazzy rendition of Watermelon Sugar. The edgy, leather-look was once again paired with a boa — this time a bold green color. Did this compel me to order a boa of my own? It's possible.
Another look I loved was worn by Ms. Megan Thee Stallion. Recipient of the Best New Artist award, Megan's bright dress perfectly mirrored her bold personality. The strapless Dolce&Gabbana gown featured a high slit and dramatic bow detail on the back. Equally as eye-catching were her studded orange heels and shining jewels. The statement necklace in particular featured a whopping 91.7 carats of diamond. Megan looked equally classy both strutting the red carpet and on stage accepting her (multiple) awards.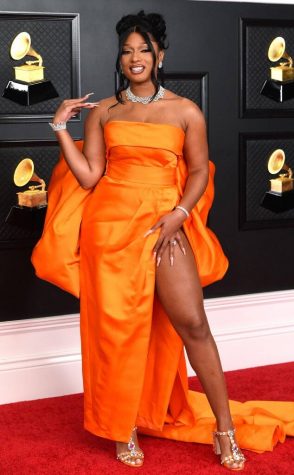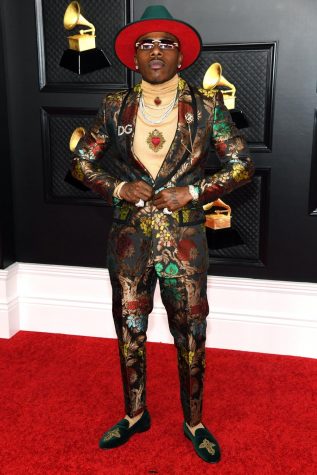 DaBaby also flaunted a full Dolce&Gabbana ensemble with some serious finesse. The rapper rocked a bold patterned suit, coordinating hat, and green velvet loafers. Finished off with some layered necklaces and matching "DG" brooch, he took that carpet by storm. I am, however, disappointed that Jojo Siwa declined the singer's invitation to perform alongside him.
Finally, one of the most controversial looks of the night was worn by Doja Cat.
The singer sported a custom gown with a seriously plunging neckline, leather details, and bright, feathered skirt. Completed with matching heels and a blunt, jet-black mullet, Doja's getup has been widely debated.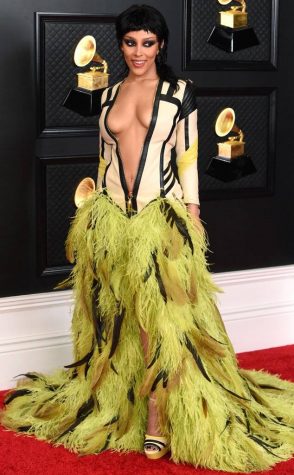 As for my opinion? She was edgy and daring, yet trendy (plus absolutely SNUBBED). The dress captured a piece of her personality and suited her perfectly.
Although it wasn't the most traditional ceremony, the celebrity guests did not skimp out on detail.
Did your favorite artists win awards? Did they look good doing it? Let us know!
For more fashion coverage, check out Justine's "Fashion of the Inaguration."