The Eagles Strike Again!
And here we are again, back for another week of Brentwood sports. And they did not disappoint. Our Eagle teams have continued to play at their best, dominating their playing area. Let's recap: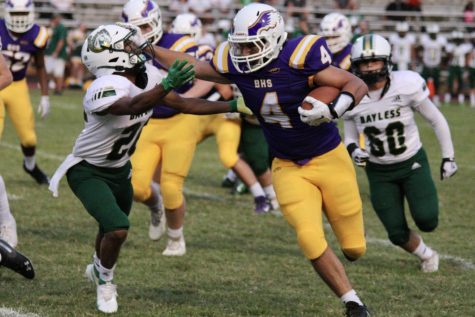 Instead of playing Friday night, our Varsity Football team ended up playing Monday, October 11. And even though it wasn't a Friday, the energy did not disappoint. Playing against University City High School, it was a close game with a final score of 38-34. Junior Simeon Cooper comments, "We knew this was going to be a tough game to play, but we got out there and had fun." When asked about the game, Cooper gives major props to Quarterback Trenton Mitchell. Mitchell had an outstanding play at the end of the game, getting a fumble recovery which won the game for the team. Mitchell says, "We played better mentally, and that's what really set us apart from U city."
In the same week, they also played on Friday, October 15. Playing Roosevelt Highschool, it was a great game for their senior night. The game's final score was 48-6, with us ending the game early due to the mercy rule.
Due to the Football team not playing Friday, the soccer team had their senior night Friday evening, October 8 playing Maplewood Highschool. And it was one heck of a game. After ending the game with a score of 2-2, they had to go into overtime. And even after overtime, the score still remained the same. This only meant one thing for the team. The outcome of the game came down to a penalty kick shootout. Luca Gould, who plays goalie for the team, was under immense pressure. "I was so nervous," recounts Gould. "I mean it is what it is, if they scored then that's just what happened." But the Brentwood boys did not disappoint. After Maplewood missed two of their shots, junior Andrew Moran stepped up to the line. "I was so nervous, and I was so scared I was going to miss my shot," says Moran. He shoots and makes the goal, winning the game for the team. Ian Lawrence, senior and leading goal scorer for the team, talking about encouraging Moran. "He was so scared to miss it and let the team down," says Lawrence. "When he made that goal, I was so happy, not just because we won the game, but mainly because Andrew did it and scored the goal."
On Tuesday, October 12 the Varsity Soccer team played Hancock for the second time, and they kept the same energy. With a final score of 8-1, they played an excellent game. The next day, October 13, they played McCluer North, winning with a final score of 8-0. They only played the first half of the game due to the mercy rule.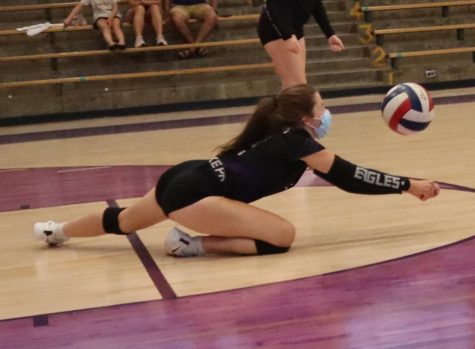 On Tuesday, October 12, the Varsity Volleyball team played Hancock and completely swept them. Haylie Minshall, a setter and a right-side hitter for the team, talks about their mindset during the game. "We came out ready and kept the energy up the whole game," says Minshall. "We found that good chemistry and it brought the team together to secure that win."
On Wednesday, October 13, they played Witfield, and on Thursday, October 14, they played Lutheran North and unfortunately lost both games.
The JV Volleyball team played multiple games, playing against Hancock on Tuesday, Whitfield on Wednesday, and Lutheran North Thursday.
Make sure to come back every Monday for your recap of Brentwood sports!