Brentwood OOTW: What are People Wearing?
Hang on for a minute...we're trying to find some more stories you might like.
Students at Brentwood differ in fashion; some wear hoodies with sweatpants while others wear dresses with heels. Whether it be sporty, comfy, edgy, or anything else, they all express their own personality. These students and their outfits definitely deserve some recognition.
Wednesday
Justine Favazza is a sophomore here at Brentwood. She is an amazing cheerleader and also has her own youtube channel. Justine's style includes finding unique pieces to work into her outfits. Her clueless-vibes ensemble pictured is a favorite look of hers. Her shirt is from H&M, her pants are from Urban Outfitters, and her necklace is a gift. Her favorite part of her attire is the necklace, since it's personalized with her name and is super special. She also loves the outfit because she has a love for fun pants. 
Hannah Yancey is a junior at Brentwood and the captain of the cheerleading squad. She says she has a pretty simple style and that the outfit pictured conveys that. Her comfortable outfit is a look she enjoys to wear a lot. Her pants are from Lululemon and the rest of the look is from Urban Outfitters. Hannah favorites her necklaces because she enjoys wearing them and thinks they add to her look. She additionally likes the outfit because she loves the color.
Thursday
Tramaine Cooper is a senior at Brentwood. He is a proud member of the Haug advisory. Although Tramaine doesn't have a certain style, he wears clothes that he says makes him look good. His outfit is from the polo store. Tramaine's favorite part of his look is the shirt. He likes it because he enjoys wearing white since it's a color that he feels compliments him. Tramaine would describe his outfit as drippy, and enjoys his 'fit'.
Xavier Lane is a junior at Brentwood and is a member of the football team. He says that he has a style of mostly black, so the outfit fits that. He would describe his look as swaggy. His jacket is from Nike, his pants are from Ross, and his shoes were a Christmas gift. His favorite part of the outfit is the jacket because it makes him stay warm. He also fancies his clothing because it fits his monochromatic style. 
Friday
Paige Whinery is a senior at Brentwood and a member of the cheerleading squad. Paige says her style depends on what mood she's in on a certain day. Her trendy outfit pictured is a look she's really fond of wearing. Her jacket is from Varsity Cheer, her tank top and shoes are from Target, her pants are from Forever 21, and her necklace is a souvenir from Florida. Paige loves her pants because they are stylish and make her feel like she's wearing leggings. Overall, she likes her outfit because it's cute and comfy. 
Looking into the different styles of students around the school is super fascinating. Brentwood students all have their own sense of fashion, and they certainly dress to impress!
(All photos by Lulu Martin)
About the Contributors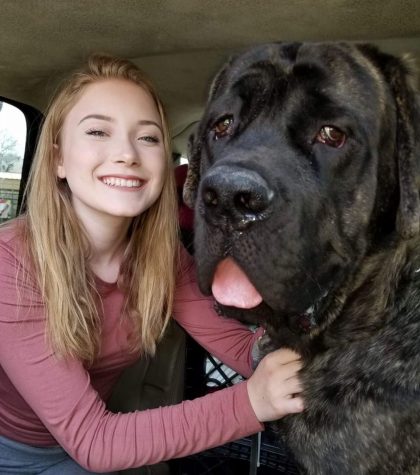 Lulu Martin, Creative Director
Lulu Martin is a Senior at Brentwood High. She is one of the creative directors of the newspaper. She is also a member of National Honor Society and co-captain...