The 2019 Emerson Award
October 17, 2019
Surprises-some despise them, and some love them. Always an event, they are an exciting way to acknowledge someone special. Our amazing English, journalism, and debate teacher, Mrs. Haug, received an honorable surprise award earlier this month: the 2019 Emerson Award.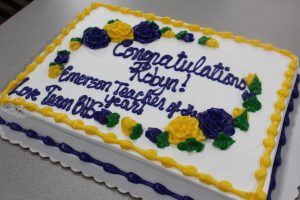 This award recognizes teachers in the St. Louis area for contributions to learning, passion for teaching, and creativity paired with knowledge. Mrs. Haug has shown all of these qualities and more throughout her time here at Brentwood, and we wanted to highlight her accomplishments.
Mrs. Haug grew up around teachers; her dad and stepmom both being one and her mother a photographer. As a kid, Haug loved shopping and of course, reading. She was an avid debater, naturally, as well as a tennis player and cheerleader. She was all about the big hair, with all the hairspray you could get.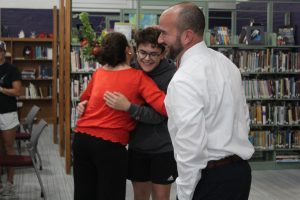 Haug had a dream to be the first woman president and go into politics but changed her path to becoming a teacher. She went to Truman State University to get her bachelor's degree as a communications major. She continued to earn two master's degrees from
Lindenwood, one in education and one in fine arts: writing. When it comes to inspiration, her high school debate coach influenced her the most. She was very involved in debate during her time at Parkview High School and her team even earned the title of fourth-best team in the nation her senior year. Her coach taught her to speak out for what you believe in and learn to be a leader.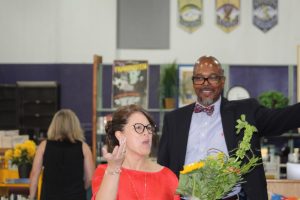 The best part of her job is getting to pass on that message and teach kids how to advocate for themselves, whether it be about debate, journalism, or anything else. It's important to "always speak up for justice." Coming into Brentwood, she felt a need for a stronger student voice and wanted to make a difference. Haug felt a debate team was necessary since it was not only a passion of hers but would provide a place for kids with no place in sports. She also felt journalism needed to be discussed and highlighted since it is "so creative and presents different types of voices."
Some of her proudest moments here include Lindsey Trieu going to Nationals in 2019 and getting to teach her kids. Most of all, though, Haug values "those goofy in class things like private jokes and when you start to gel." Getting to watch kids grow, and all of the organic moments are the proudest aspects "outside the realm of teaching." Haug hopes her students learn to speak up, advocate intelligently, understand literature through history, and of course, know how to cite a source and use MLA format!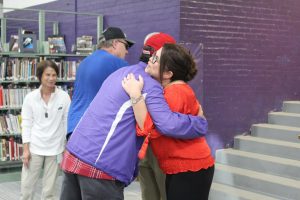 When asked about her brand new award, she says she isn't the best at public recognition. But she is beyond honored to be chosen. Haug says that the "only reason I am getting an award is because I get to do cool stuff with kids every day. Without the kids, there is no award." Her biggest advice to those she teaches is to "go get em." She also says that everyone is excellent in lots of ways, and wisdom can come from others around you, as well. 
Congratulations, again, to Mrs. Haug for all of her hard work, dedication, and student support. The Emerson Award is lucky to have you!