Direct Your Attention to Ms. Carmody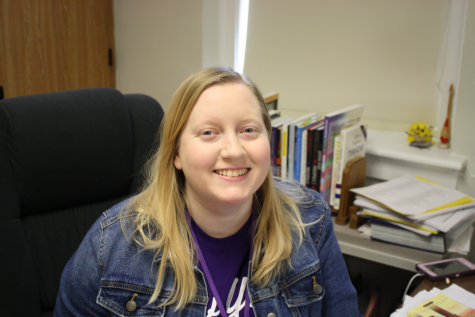 The star of the theater program, Ms. Carmody, is one of Brentwood's newest teachers. She teaches English classes along with a few theatre arts classes. After graduating from Culver Stockton College, she went directly into working in education and has been for the past seven years. Carmody is currently working on getting her Master's from New York University, while still teaching at Brentwood. She is doing this by taking classes in New York for a few months over the summer: "It is stressful fitting a whole semester into a few months over the summer, but exciting," she exclaimed.
 Carmody has always had an interest in theater, as she has been in plays ever since elementary school. For as long as she's been teaching, she has been directing plays and musicals, usually two a year. Directing is her favorite part of her job. "The Night Thoreau Spent in Jail" is Ms. Carmody's favorite play that she's starred in because it was challenging and different than other parts she typically played. She has two favorite plays that she has directed, one called "She Loves Me" and the other, "You Can't Take it With You." 
"
"It's been really exciting. For the most part [students] are very independent-minded and creative people which is exciting to see.""
— Ms. Carmody
Carmody says that working at Brentwood is not exactly the same as other schools that she's worked at: "It's a little different because the classes are so much smaller, but there are more resources here." She also noted that she's thrilled to see the final result of all of the construction going on around her since it's all she can hear and see around her. Her main goals for this year are "to get to know the school and kids, get to know the theater program, and to really make space for the kids in the theater program." Overall, Brentwood has been very excited to welcome Ms. Carmody, and we're happy to have her as a teacher and director here.