Brentwood's Got Talent
Talented students are all over Brentwood, and they deserve recognition like Nirmita Vijayalingam, Contessa Smith, and Michael Myers.
Sophomore and dancer extraordinaire, Nirmita Vijayalingam, has been doing an Indian Classical dance called Bharatanatyam ever since the first grade. Bharatanatyam is a major form of Indian classical dance that originated in the state of Tamil Nadu, India. "It is a cosmic dance of Lord Shiva, a Hindu God. The main components of Bharatanatyam are hand movements, footwork, and facial expressions." According to Vijayalingam the main point of Bharatanatyam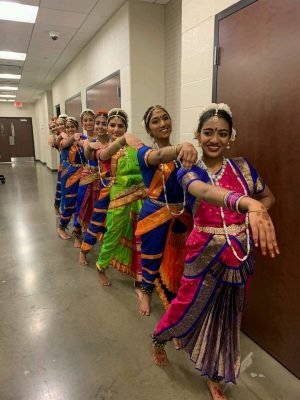 is to tell stories from Hindu mythology through dancing. Some dances may focus on particular stories of  Shiva the destroyer, Krishna the god of compassion, or Ganesh the overcomer of obstacles. In the past ten years, she has been in ten recitals, and that takes a lot of practice. Vijayalingam has a dance class every Sunday from 11:30 to 12:30. "While the hand movements and footwork may be easy to memorize, dancers usually have a hard time conveying the emotions/ facial expressions you are supposed to give," said Vijayalingam. "Since I have been doing dance for a very long time, those facial expressions and emotions come naturally to me. When I was little, I hated doing them." While being an amazing dancer she also gives great back massages!
Along with the fine arts we have future actress, Contessa Smith, a senior this year at Brentwood, and she's on her way to stardom. Smith hasn't done plays outside of school or church, but she's jumped at every chance to act since elementary school. This year's play is Almost, Maine, and it will be her ninth performance. When asked about her future acting dreams, Contessa said, "I know I want to use college to develop my skills and that I'll definitely find community theatres to join." Right now, Smith's favorite plays that she's been in are between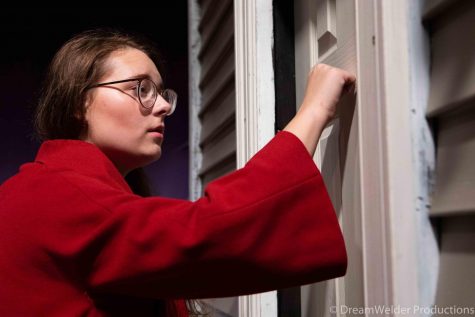 Clue and Almost, Maine. Her favorite part of both is the relationships. "Both plays had so many great moments off-stage. We laugh and joke with each other. We see each other struggle with insecurity and awkwardness that comes with messing up. We're together for six weeks, and we grow closer," stated Smith. "The hardest part about doing these shows is when they're over because there's this void that the cast and crew leave behind. You miss them." Her favorite role has been Gayle in Almost, Maine. She says that her scene is so emotional and the stakes are high,"she goes through a rollercoaster of anger, heartbreak, hope, and eventually, relief and happiness." Smith says that's it's been difficult at times because she has to be able to switch emotions so quickly, but she likes being able to challenge herself. "I have to push myself because this part is so real and raw compared to past roles. I have to be sure that I understand her thought process and convey it in a way the audience can resonate with." 
We've seen dancing and acting, but Brentwood has many talented artists as well. Michael Myers' art has been shared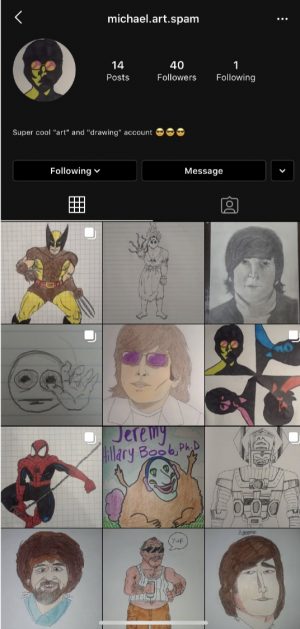 throughout Brentwood High School for months. Myers has always drawn as a younger kid but didn't realize he could
really draw until he was in 6th grade. In kindergarten, he entered a Halloween drawing contest and won, but has entered into nothing now:, "I'd probably be smoked by other people who have more technical skills than me." He tends to draw a lot of comic book characters, superheroes, and things he enjoys. "I try to draw every day for a couple of hours, but recently life has gotten in the way," says Myers. When asked about selling his art, Michael said that he thought about selling when he was younger but not now. Myers' favorite type of art is comic art from artists such as John Romita Jr, Todd McFarlane, Jim Lee, John Byrne, and Jack
Kirby. Individuals can support Myers by following @michael.art.spam on Instagram. 
Do you have an interesting talent you'd like to be featured? Leave a comment down below to be featured in The Nest in future stories!