The Football Finale
One of high school's most popular and beloved sports is none other than football. There's nothing that brings a whole school and student section together like the Friday night lights, and our very own Eagle team had a notably great year and a season not to be forgotten.
Football player and junior Micheal Jones played hard this year. When asked about his thoughts on the season, Jones said that he thinks the season went pretty well even though they had some unfortunate injuries. They were still able to get together and make it to the district championship. To improve for next year, Jones believes that the team not only has to work more in the offseason and in the weight room, but also on their fundamentals. To achieve what they did during the season Jones thinks that the key was them focusing on coming together as a team and not being self-dependent but instead trusting in their teammates so they can win throughout the season. Jones's favorite memory was how the team came together as a family and a brotherhood. Jones stated, "we have to hold each other's ropes and not let go no matter how much pain you're in because they're your teammates."

Another junior, Xavier Lane had a good competitive season which he felt went really well. Lane said the plan for improvement next year is to get more people to go out for football so that they can have more faces on the squad and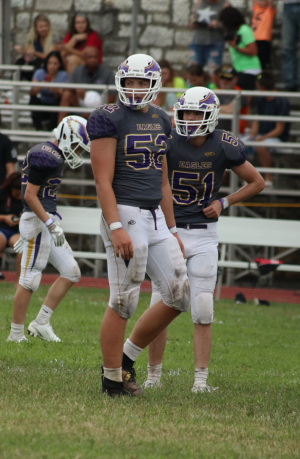 also start getting to work early over the summer. Lane believes they were able to go far during the season because they worked on being focused as well as staying accountable for one another. Lane's favorite memory from the season was all the bus rides, halftime talks, and snacks. Lane sticks to the saying "work hard play hard" when hustling on the field.
Head coach Timothy Kuhn thought on the season were that it went well. Even though there were some opportunities missed, he thinks the team was fully engaged and if it weren't for a couple of plays they would still be playing. To improve for next season, coach believes the team needs to build on teamwork, attitude, and effort along with changing some of the strength, conditioning, speed, and agility habits. He also feels the mental aspects of the game are crucial, too. He thinks what really led to the team's success was staying focused on maximizing opportunities, stepping up at the right moment, and keeping their head up and being positive. When asked about his favorite moment from the season, Kuhn said it was watching some of the seniors step up and take over leadership and ownership of the team. And finally, Kuhn's said "we're all we got and we are all we need."
The Brentwood varsity football team made the entire high school proud with a very impressive season this year, finishing in 2nd place for districts. The juniors are revved up and ready to take on a bigger role as seniors next season.
Leave a Comment