Let's Get Listening: Kate Fedotova's Musical Talents
Music is a universally recognized art form that almost anyone can end up enjoying. Whether listening to it or playing it, it evokes emotion. A Brentwood High School junior, Kate Fedotova, is also inspired by music. She writes her own music, as well as performs it at open mics. She also happens to have grown up in Russia.
Moving in 2016 at the age of 14, she said that that growing up in Russia was a normal experience for her. Kate says that
if she misses anything about Russia, it would be her cousins and her cat. She also appreciates that, "compared to Russia, America has a lot more opportunities to pursue a career in music."
Playing since 2010, she prefers to play mainly hip-hop and classical music, as well as listen to the same genres. She also writes songs and is currently working on a couple. Fedotova also has some completed, although those don't have names yet.  Her biggest inspiration when it comes to writing and playing music is a pianist named Denis Matsuev. Some other songs she's been listening to lately include Raining In L.A by FrankJavCee, uuu by Field Medic, and Telescope by Cavetown.
Fedotova also said a little bit about her plans for the future. She plans to study computer science when she gets out of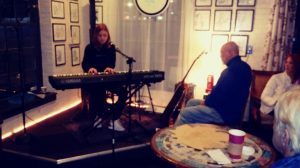 high school, but if that doesn't work, she thinks that she'll be a music teacher. 
If you also have a cool talent that you would like the newspaper to represent or talk about, you can send an email to [email protected]. We always appreciate opportunities for new stories, and stories geared towards our amazing student body. Show us what you got!