How Fresh Are Your Kicks?
The sneaker mania that's sweeping the teen world
Sneakers have been around for as long as anyone can remember, but this generation, in particular, has taken their popularity to another level. Sneakers are becoming more and more sought after every day, whether it's camping out in lines for the newest release or having them sell out online in the first 15 seconds. The extreme admiration of sneakers even extends all the way to Brentwood High School and we have three Brentwood sneakerheads to prove it.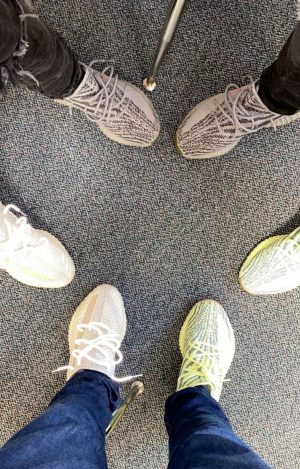 First off, senior sneaker addict Marco Mathon had a few things to share about his experience and love of sneakers. Mathon's favorite pair of shoes currently are the men's Uggs because they are the most comfortable pair of shoes out right now. Mathon really first started to get into sneakers from watching the NBA when he was younger. As time went by, his love for the shoe game grew and grew. Mathon thinks that his coolest or best shoes that he owns are the Yeezy 350's which come from his personal favorite brand, Adidas. Mathon believes the shoes's vast popularity has stemmed
from major celebrities such as athletes, rappers, and especially Kanye West. In Mathon's opinion, the most overhyped kicks are any Off-White shoes that have ever been released. He thinks what really makes a nice pair of sneakers is a good style and great comfort. Mathon said that the reason some of the coolest shoes are the most expensive is because of how limited they are, but he also has a feeling that all the most expensive shoes aren't always the best. "And actually," says Mathon, "it's possible to find a really solid pair of kicks for about $50."
B.B. Elkin, another senior sneakerhead at Brentwood, has an impressive shoe collection and a large knowledge of shoes, as well. Elkin's favorite sneaker out right now are the Yeezy 350 v2's and to him, those and the Adidas Ultraboost's are the most comfortable sneakers on the market. Elkin's favorite shoe brand is Adidas and the coolest shoes that he owns, are also the Yeezy 350's. Elkin first got into sneakers from his cousin Chrishawn, and he thinks that the reason shoes have risen so much in popularity is because to him, "it's not possible to have a good fit without good shoes." For Elkin the key to a shoe being quality is it having great comfort while also looking aesthetically pleasing. Elkin said that some of the coolest shoes are so expensive because companies don't produce a lot of pairs, therefore, they're harder to get a hold of and the price is higher. Elkin disagreed that the best shoes always cost the most because if you look hard enough there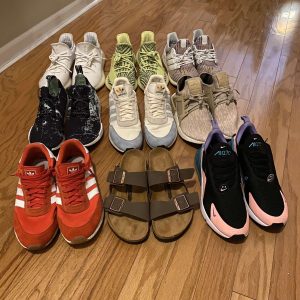 are tons of very affordable shoes that still look good for lower prices.
Brentwood senior Jack Otten gave his thoughts on the world of sneakers and here's what he had to say. Otten's favorite shoes are a tie between the Yeezy 350's and male Ugg boots. They both are the comfiest shoes he's worn and that's the reason he likes them so much. Just like his buddies Mathon and Elkin, Otten's favorite sneaker brand is Adidas. And the coolest sneakers he personally owns are the Yeezy 350's which seem to be heavily favored by Brentwood students. Where Otten really got his love for sneakers was from his pals Mathon and Elkin. He thinks that where all the shoe craze came from was celebrities wearing them and starting new trends for the younger generations. To Otten, for a certain sneaker to meet expectations, it needs to possess both comfort and a good overall style. Otten said that the most hyped up pair of shoes are the Off-White's but just because a shoe is limited and super expensive, it doesn't automatically make it better than all other shoes.
Shoes have, in fact, become so popular in the U.S. that according to brandongaille.com, "Out of a $180 billion global market, Americans contribute over 50% to shoe producers, retailers, and distributors every year." The United States and Brentwood have paid a lot of attention to shoes and sneakers. Whether the most expensive or hand me down, shoe style is a key factor in anyone's wardrobe today.
Leave a Comment