Astounding Athletes: Chris Hill
Brentwood High has many skillful athletes of all different sports. One star athlete, senior Chris Hill, has some impressive stats. As a member of the Varsity boys basketball team, Hill is a four-year starter who has a lead of steals (5.6) in the area. He is also amid the area's leaders in assists (4.3), rebounds (11.3), and blocks (2.4). Hill was recognized as an athlete of the week by stltoday on January 15 of this year. 
In addition to his outstanding stats, Hill earned All-Tournament Honors at Valley Park during the start of the season and was "Player of The Year" in the SCAA last season.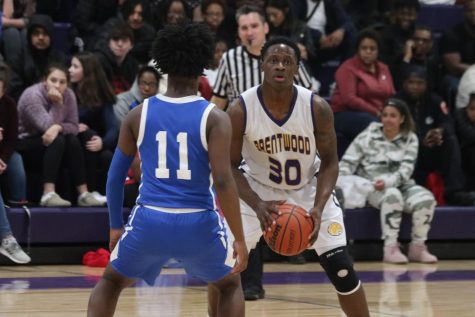 Hill appreciates this recognition. "It feels good to be recognized for my hard work," Hill said. Although he didn't specifically aim for this award, he still appreciates it. His main focus is trying to win as many games as possible. Although the basketball team has only won about half of their games so far, Hill says, "As long as we show growth, the number of losses or wins aren't a totally big thing." Hill hopes to turn this season around and prepare for the playoffs. 
As far as his plans for a basketball career in the future, Hill does intend on playing in college. "I am just waiting for more offers to roll in before I commit," Hill noted. He is also aware that signing day will be here in the blink of an eye, and he's excited to see what's to come.
Hill's hard work and determination allow him to lead the area in many different categories. His positive attitude also allows him to have a hopeful outlook on the rest of the season. Overall, Hill is happy with his award, hopes the current season will turn around, and is excited to play in the future.