The Next Plague?
A new strand of the Coronavirus has been causing international panic in the past week. So far, there have been around 7,700 cases in over 15 different countries including the United States. Most of the cases originated in Wuhan, China but have spread to different parts of the globe. Hundreds of Americans have been evacuated from Wuhan and the city has closed its borders. As international tensions have been increasing in the past month, so have concerns about another plague. Before international panic sets in, it is important to understand the realities behind this threatening disease.
The Coronavirus has existed for many years, previously causing global concern in 2002. According to The Guardian, a strand of the Coronavirus disease called "Sars" spread to 37 different countries and killed more than 750 people before it was cured. Another existing version of the Coronavirus is "Mers" or Middle Eastern respiratory syndrome. Both Sars and Mers come from animals and have spread to humans through the meat and fishing industry. This is also the cause of the current strand of the Coronavirus, "Novel," causing global panic and confusion at the start of 2020.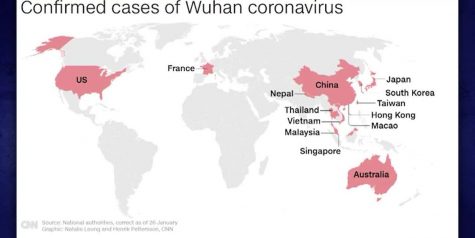 According to the CDC, the symptoms of Coronavirus Novel are a runny nose, headache, cough, sore throat, or a fever. These symptoms are similar to the common cold which makes the Coronavirus even more mysterious. According to CNN, with current knowledge about the disease, "the risk to Americans is low." Unfortunately, CNN also mentions that scientists and experts do not know how fast or easily the disease spreads yet. So, while some continue to brush off the disease with little concern, others have begun to realize that this could be a serious threat due to the lack of knowledge about this strand of Coronavirus.
As of right now, the only confirmed cases within the United States are in California, Washington, Arizona, and Illinois. However, over 100 people are being monitored in 7 other states. Luckily for Brentwood, there are no cases confirmed or being monitored in Missouri. With that in mind, it is still important to pay attention to the developing news about this mysterious disease. With a new and dangerous disease, it is always important to value safety and health. In order to prioritize safety, students at BHS should take some time to educate themselves more about this case. The World Health Organization is meeting on January 30th to discuss the severity of this illness. While it may not be the next plague, the Coronavirus is a disease that will most certainly leave its mark in 2020.