Student Leaders: Junior Maya Sabeh
As young adults emerging into the real world, seniors and rising seniors have to think about their future. They may be going right into the workforce, traveling abroad, or joining the military. However, a major thing students tend to do after high school is go to college. Planning for college can be stressful, especially with thinking about how to pay for it. Something that can significantly help with the payment is getting scholarships.
Junior Maya Sabeh was offered a $3,000 scholarship from SEMO's KMOX/Southeast Missouri State University Student of Achievement Program on Thursday, January 30th. To get this scholarship, she submitted a one-page essay on "Ways I demonstrate participation and leadership in school and community activities." 
The scholarship was available for select juniors with a minimum 3.5 GPA. The student also must have demonstrated participation and leadership in school and community activities. The scholarship will only be rewarded to the student if they attend Southeast Missouri State University upon high school graduation. The names of the 30 recipients, including Sabeh, from around Missouri will be broadcast on the KMOX radio station for the next two months.
Sabeh is thrilled to have been offered this scholarship as a junior. She had doubts about getting it, but saw the email from Mrs. Diaz the night before the deadline and figured she'd give it a shot. Sabeh didn't find out she had been chosen as the school's nominee until a few weeks later because she was home sick. "I think it is really cool that I was able to really start my college search this early, and I am especially excited to hear my name on the radio," Sabeh said.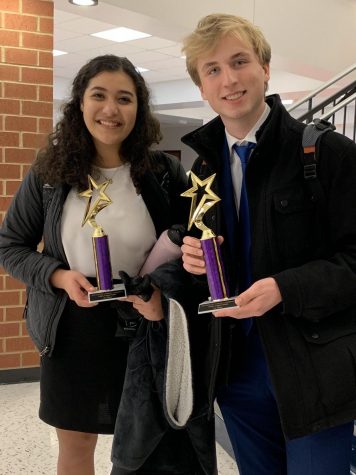 Since Sabeh has had to make many preparations in order to get this scholarship, she has some helpful advice for people trying to get a scholarship. Her first piece of advice is to have a list of all the activities and extracurriculars/academic achievements they have completed in the past four years, like a resume. "Then, when you are writing your essays, you can refer back to this list, and make whatever topic you are writing about relate to it," Sabeh noted. An example would be if the prompt has to be about a past struggle, and they have participated in a challenging sport or activity, they can think back to a time that they had to solve a difficult problem in that activity. Then, she says, the person can refer back to the resume as they talk about how that experience taught them something, such as working under pressure. "This proves to the person reading your essay (and deciding who gets their money) that you have the attribute you are claiming to have in your writing," Sabeh concluded. 
All in all, Sabeh's leadership skills and preparations have allowed her to be awarded a scholarship as early as junior year. Students should follow in her footsteps and get a head start on scholarships like Sabeh! 
Sites to check out for scholarships: http://bhs.brentwoodmoschools.org/parent_resources/college_and_career/scholarships