Sweet Tooth for a Sweet Day
As the 14th of February creeps near, you may be looking for a new Brentwood best: dessert. For the holiday of love, the Brentwood area has quite a few spots for those who are looking for an intimate Italian scene, a 50s-vibe throwback, a quick drive-thru, and even an adventurous endeavor. We tried all the best treats to help you find your perfect Valentine's night dessert.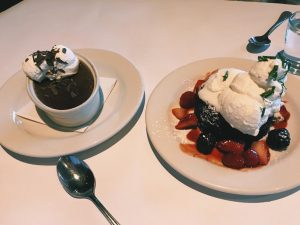 Tonight's the night, and you must decide where to take your partner to impress. If you are looking for a modern spot, but still with a romantic touch, check out Bonefish Grill. Seafood specialties with an inventive drink menu, this spot is great for the shell-fish lover! The vibe is relaxed and staff delightful, too. The dessert menu is decadent, with seasonal choices like the chocolate lava cake with fresh mint and berries or chocolate creme brulee. The lava cake is the ultimate Valentine's day treat that's fluffy and sweet. The creme brulee had a dark chocolatey, bitter hint that was light yet creamy. Both topped with homemade whipped cream, these shareable treats for only around $8 cannot be topped!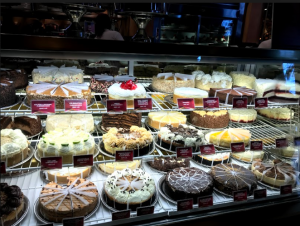 For those who need a wide variety, The Cheesecake Factory in the Galleria mall is a safe bet for any date night. The menu is one thing to tackle, but the cheesecake list is a whole different ball game. With 32+ flavors of cheesecake, choosing might take as much time as eating an entire meal. We settled with three classics, including the Original Cheesecake, Ultimate Red Velvet Cake Cheesecake, and Adam's Peanut Butter Cup Fudge Ripple Cheesecake. Some are not for the weak-willed, and sharing your piece is a must. Prices are from $6.95-8.50, depending on how wild you get, but choose two slices and split with your partner for an awesome taste-test trial.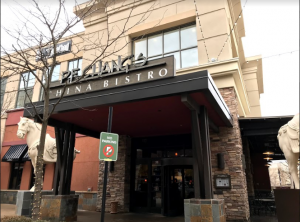 If these are a tad too basic for you, don't fret. Brentwood has some fun locations with crazy concoctions for you and your bae to taste test this February. P.F. Chang's located on The Boulevard is a spot full of Asian mash-ups. Their dessert menu has innovative items like banana spring rolls with coconut ice cream, or their infamous cake: "The Great Wall of Chocolate." The banana spring rolls were a fun, crunchy twist on dessert, and the cake was insanely rich and moist. P.F. Chang's can hook you up with Asian cuisine with a sugary finish.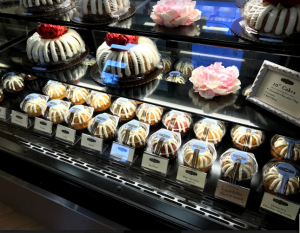 Now, I know there are some who would rather not fight the crowd or pay the extra dough for a sweet confection. Don't worry, because Brentwood has you set. Right down Manchester sits Nothing Bundt Cakes, the popular stop for perfect little round cakes. A personal "bundlet" is just $4 and can be brought home for you and your sweetheart to enjoy. Flavors are a-plenty, our favorites being red velvet and confetti. You cannot go wrong with cream cheese frosting and sprinkles galore, and these moist desserts are three times better than your average cupcake. Delicious and personal, they rock.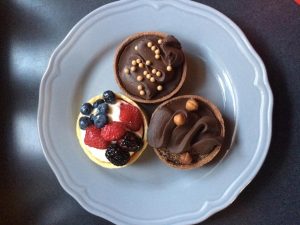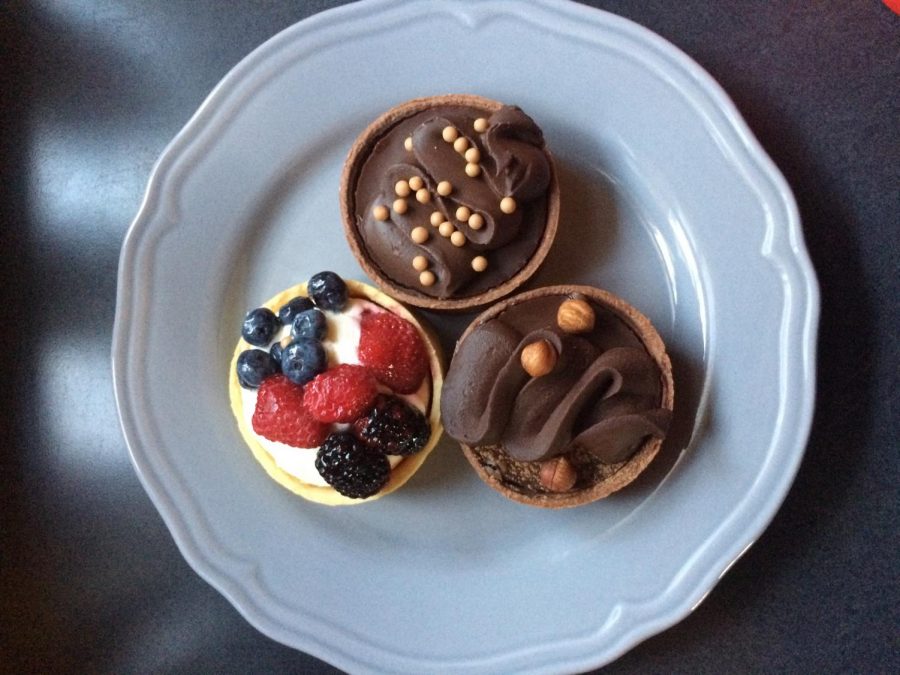 This next location is a small addition to your grocery shopping trip, and it's just as yummy as a professional bakery. Whole Foods has an immense dessert section full of tortes, cookies, cakes, gelato, and sugar of all sorts. Our favorites included the triple berry torte that's light and airy and the flourless chocolate cake that's rich and decadent. For just $2.50-$6.00, these purchases shouldn't be missed! For seriously insane flavor, quality, and originality, Whole Foods is such a wonderful stop for many types of baked goods.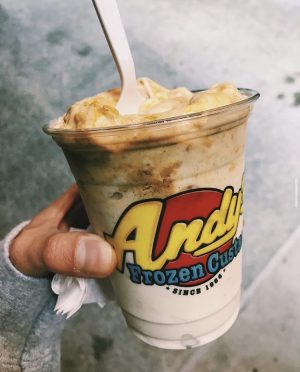 As temperatures drop, some might not go for a cup of cold, creamy, concrete custard, but we personally feel any time of year is ice cream time. Andy's Frozen Custard is our go-to spot near Brentwood, and its drive-thru makes it that much easier. They are open late, till 11:30 pm, so you don't even have to go out until later! With small concretes ranging from $4-5, you can get a hefty portion of really solid ice-cream. Our favorite mix-ins include brownies, Oreos, cheesecake, and cookie dough. Get multiple desserts in one, at Andy's!
The very last spot we recommend for your Valentine's night out is a neighborhood staple. You know it, you love it, and it is such a wonderful spot to spend a memorable night. Carl's Drive-In is a famous local burger joint that has the best root beer floats. Take your cutie for a 50s themed night and end the day by slurping down a homemade, fizzy, creamy float. How can you go wrong? Quick, made from the heart, and for only $3-5, this Brentwood jewel is the perfect way to say I love you to those you hold dear. 
I think we have you covered, Brentwood, and hopefully we've opened the doors to all your cupid-day dreams and desires. So what are your Valentine's plans? Keep up to date with The Nest to stay in the loop with the best and tastiest neighborhood spots. 
Leave a Comment