Gaining a global perspective through diverse curriculum
A student finding that their culture or heritage is underrepresented in the curriculum of history and literature classes is a common problem in many public schools around the country. So how does diversity representation in the timelines and texts that are taught at Brentwood High School hold up to statewide and national standards, and how could curriculum be improved to be more inclusive?
 Like all departments at Brentwood, the Social Studies and English departments are small, consisting of only three to four teachers. This limits the scope of possible courses offered. Freshman history teacher Bryan Swearngin says, "Brentwood is very small–we just don't have the student numbers to offer more courses. This may change, but right now, it seems better or at least, frankly, easier to adapt what we have than to create new courses."
The Brentwood School District requires four social studies credits for graduation, which is one more than is required by the state. While the district requires more graduation credits than many other Missouri schools, the number of courses offered is smaller than the average high school due to the size of Brentwood. 
High schools such as Clayton High School or Ladue Horton-Watkins High School are able to offer social studies courses that range in topic areas and perspectives. Such as African American studies, human geography, and international relations courses. Sophomore history teacher Roy Hughes says, "I think it would be great to have an elective course in Eastern Asian studies, African history, African American history, and a World Religions course. The only issue is having individuals with a background in these areas or enough students interested to warrant a course." The only course currently offered at Brentwood that exclusively provides perspectives outside of the western zeitgeist is Multicultural Literature, taught by freshman English teacher, Elena Royal. 
 Many Brentwood students feel that their social studies education has been fairly well rounded. Senior Edris Roman feels that she was provided with many different perspectives but missed out on in-depth study into the earliest Americans: "I loved learning about different cultures and their religions. I think Brentwood history classes focus a lot on American and English history and don't really talk about other diverse cultures like the Mayans, the Aztecs, or the Taínos."
Other students, such as sophomore Hayden Bender believe that their classes have focused almost exclusively on Western cultures. "I don't think I have learned a substantial amount of anything regarding history or cultures outside of Europe or the United States in either of my history or English classes. The little that I have learned about other countries has usually been their role in the development of European and U.S. history." 
 However, Hughes says, "It is very important for students to gain knowledge about other cultures. In order to make history relative to students, they need to be introduced to topics that have some type of personal connection with them, their cultural background, or interests they have. I find that the non-western cultures can be a bit more challenging but sometimes way more engaging for students."
 While many students feel they haven't been given multiple perspectives and teachers are attempting to display a wide variety of experiences in a short course list, the common consensus seems to be that providing a more holistic world view would be ideal. So how does a school of this size accomplish this, and how do students and teachers think it could be improved?
 Senior Sofia Flores states, "I think they could be more inclusive by sharing text and history of different parts of the world like the Middle East, Asia, and Southern Africa. I feel like those cultures are always forgotten. English teachers could share books that still cover whatever theme they want but just from writers from different countries." English teacher Kellie Smoller thinks that an effective way to fill the gap in perspectives is to utilize cross-course collaboration: "When Roy Hughes and I teamed up for our cross-curricular research unit on ancient storytelling traditions, we saw a higher level of engagement than normal from more of our students." 
 While school districts with limited resources try very hard to provide students with a diverse worldview, it is clear that that doesn't always resonate completely with students. As projections for population growth in Brentwood do not seem to be increasing in the near future, it is unlikely that the district will gain the ability to increase the course roster.
Time will tell whether or not hearing diverse cultural perspectives directly from high schools will heavily impact students in an ever more connected world. Flores says, "Anything I have learned (excluding Western cultures) is from outside stuff, like shows or books." With the experiences of people with completely different lives from what students are used to right at their finger-tips, schools are no longer the only view into the greater world. 
 Could Brentwood be doing more to provide perspectives, or do students even rely on high schools in the same way that they used to? Swearngin says, "Young people are much more skeptical of American hegemony than my generation was. There's lots of cool and interesting stuff out there and the idea that America's all that is more diffuse than it used to be." In an ideal world, students would be able to gain the perfect amount of knowledge from both inside and outside the school to give themselves a complete worldview. While this may not be possible for every student at every school, the Brentwood community seems to agree that this is what should be strived for. 
Leave a Comment
About the Contributor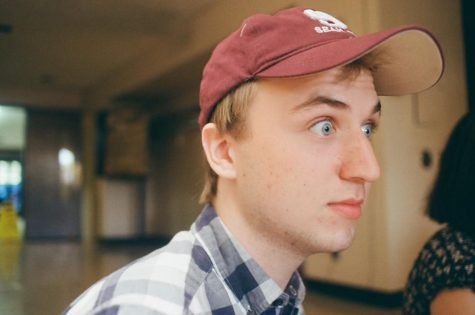 Jonas Wall, Editor in Chief
Jonas Wall is a senior at Brentwood High School. He is the editor in chief for the Nest and enjoys running and cooking in his freetime.