Fashion of the Inauguration
The historic, long awaited day has finally come and gone — Inauguration Day. Last Wednesday, Joe Biden was sworn in as the 46th president of the United States. Needless to say, this was a glorious day for many. The event was packed full of famous musical guests, inspiring poets, and past presidents (although, not number 45). The sunny D.C. afternoon could not have been more perfect for such a celebration. But, the real star of the show? The fashion.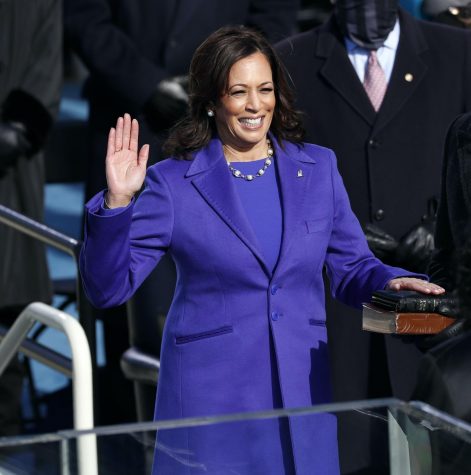 Let's start with Madam Vice President herself: Kamala Harris. Making history as the first black, asian, woman occupying this spot in the White House, she had to show out. This purple  monochromatic number was nothing short of classy. Tied together with an edgy leather glove and coordinating mask, she was certainly turning heads. However, her famous pearls were the real pièce de résistance. As a young student studying at Howard University, Harris belonged to a sorority whose founders were referred to as the "Twenty Pearls." Since graduating, she has worn the elegant gem for all significant occasions as a symbol of sisterhood. The stunning, 18k gold links encapsulated the Australian South Sea pearls, perfect for Harris's taste and style.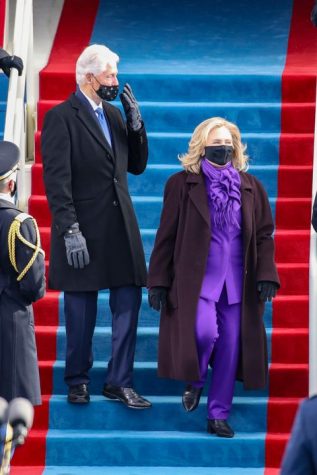 As mentioned earlier, many former presidents made appearances at Biden's inauguration — one of whom being Bill Clinton. He sported a chic navy suit with coordinating blue tie. However, he made a bold choice that many would be hesitant to make. In conjunction with his navy number, he wore a sleek, black peacoat and matching black shoes. Now, is this something I would do? Not a chance.That said, the correlating mask speckled with stars was a fun, patriotic addition. Although, it may have served a better purpose as a sleep mask when he started dozing off during Biden's speech.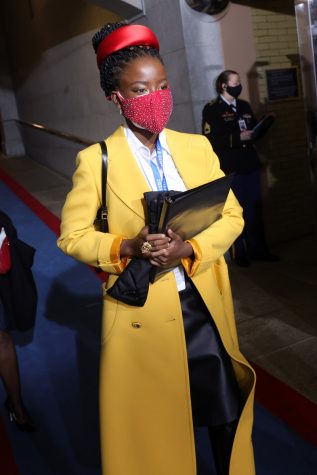 This year, there was a new addition to the inauguration lineup — a youth poet laureate. Twenty-two-year-old Amanda Gorman took this title and absolutely ran with it. She delivered a beautiful, inspirational poem painting a picture of unity and equality…..and looked stunning while doing it. She easily had the most eye-catching color palette, featuring bright yellow and red. Not to mention, her blinged-out coordinating mask. In order to pay respects to the black female inauguration poets before her — Maya Angelou and Elizabeth Alexander — Gorman wanted to wear something significant. As Oprah Winfrey had gifted Angelou a Chanel coat and gloves for her inauguration spotlight, it was only fitting that she did the same for Gorman. The young poet rocked her gifted hoop earrings and artistic ring. As she told Vogue, "[Fashion] has so much meaning to me, and it's my way to lean into the history that came before me and all the people supporting me."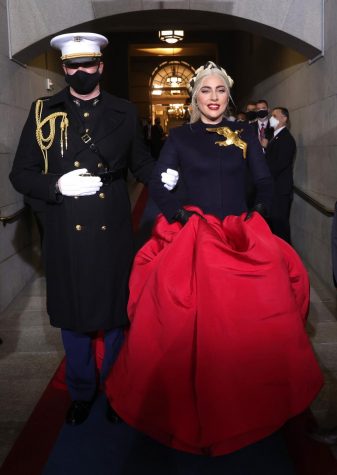 Lady Gaga had the great honor of singing the "The Star-Spangled Banner," and did not disappoint. Her soulful, powerful rendition was accompanied by a dramatic navy and red ball gown. The fitted, mock-neck top of the gown gave Gaga the freedom to move as she belted our national anthem. But as we know, it wouldn't be a Lady Gaga look without some flare. The firey, red bottom of her dress was perfectly tied with her stunning red lip. Yet, what I found most interesting about this look was the gold, oversized dove brooch. The star tweeted a photo of this accent and explained, "A dove carrying an olive branch. May we all make peace with each other." This kind and gentle symbolism was obviously carefully curated. At first glance, however, it reminded me of the Mockingjay pin from The Hunger Games franchise. Could it be a subtle jab at Trump, who is often compared to the cruel dictator, President Snow? Or maybe an homage to the utter chaos we've been through the last four years? We may never know.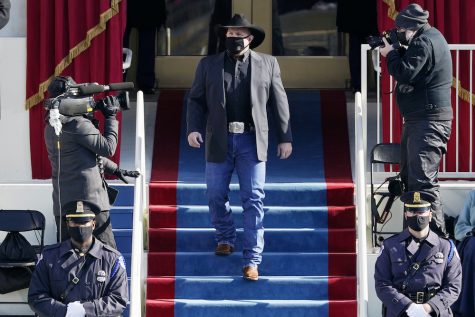 Continuing with the musical guests, Garth Brooks performed "Amazing Grace" after Biden and Harris were sworn into office. Although I don't suspect he's a flaming liberal or anything, his performance was a nice touch to the ceremony. After all, nothing screams "America" like country music. And oh, did he represent the country music culture with his outfit. Brooks scaled the Capitol stairs in his staple black cowboy hat, suave blazer, and oddly enough, blue jeans. Supported by a glimmering, western inspired belt, this was an interesting choice. In history, blue jeans have been worn as workwear for people who needed rugged clothing to get dirty at their job. They're not typically worn at such a prestigious, formal event. But as I mentioned, it is all part of the country music scene. He pulled off the $39 Wrangler's with "grace" and finesse.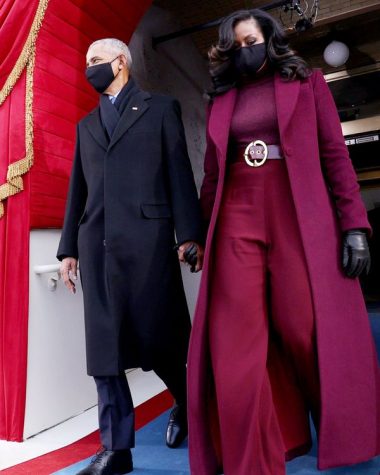 Back to our political figures, Michelle Obama made jaws drop. Much like Kamala Harris, she strutted through the capital in a monochromatic ensemble. Her dramatic flare pants and matching flowy coat added some pep in her (already powerful) step. As we know, nobody can strut through the capitol quite like Mrs. Obama. Topped off with a modern black boot, glove, and mask, this was one of my favorite looks. According to Obama's stylist, Meredith Koop, "What I want to convey most … is that this particular outfit is about the woman wearing it more than anything." She continued, "She is powerful and she needs to move. She is stunning and she represents what is possible. She is relatable and she is aspirational."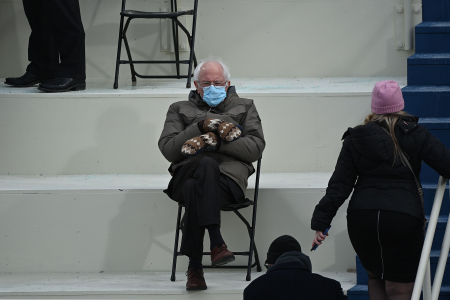 Now, these guests were good and all. However, nobody compared to the real star of the show. That's right, the man that broke the internet with his unmatched levels of style and sass, Senator Bernie Sanders. The former presidential candidate sat comfortably bundled in his taupe outerwear coat, black slacks, and of course, his famous mittens. You'd have to be living under a rock to not have seen the countless memes stemming from his photo. Comedian Marie Faustin tweeted, "Bernie dressed like the inauguration is on his to-do list today but ain't his whole day" while others photoshopped the brazen Bernie in absurd locations.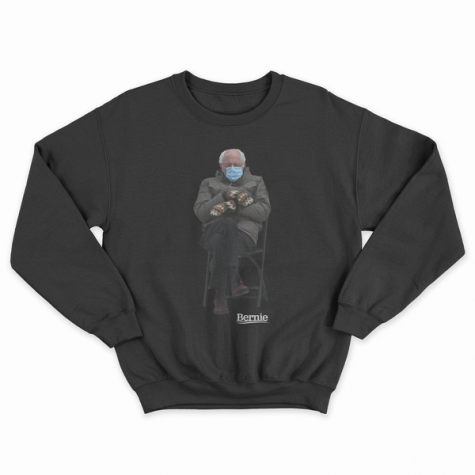 As funny as his mittens are, there's a heartwarming story behind these knitted gems. They were crafted by a queer, Vermont schoolteacher, Jen Ellis. Having used recycled plastic and repurposed sweaters, she gifted Bernie the mittens after he lost the presidential nomination in 2016. Clearly, he kept them on hand (literally!). After the meme went viral, Sanders and his team put a crewneck sweatshirt up for sale on his website, featuring the famous photo. All the proceeds went to Meals on Wheels, a non-profit that feeds elderly in need. Since being posted, the crewneck has completely sold out!
Whether you watched the inauguration to celebrate, cry, or enjoy the musical lineup, there is no denying the surplus of style this year.