Anxiety in High School: This too shall pass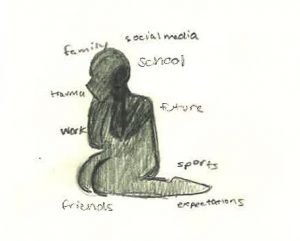 "This Too Shall Pass" is a well-known saying that originated from a Persian adage. Edward Fitzgerald wrote a story called, Solomons Seal, and it is about being humble in the face of fortune, and at the same time having hope when times are dark. Click here for more information. 
One of the many things middle school teachers will tell you before your journey off into your next chapter in learning in high school is that "this won't slide in high school." Whether it's turning in an assignment a day late, or showing up late to a class, "it won't slide." I remember when I was an eighth-grader, the thought of going to high school really freaked me out because I thought I needed to go into it doing everything perfectly. This unneeded stress should not be a part of any student's lives, because high school is about trial and error. If you study really hard for a test and end up getting the grade you feared you would get, maybe it's time to find a better method of studying for those tests and you move on. A lot of students have a problem with the "move on" part. Thinking about the bad grade 24/7 causes way too much stress.
To move on, simply tell yourself that you will do better on the next test.
Giving a presentation can be the scariest thing in the world to most people. Having to stand up in front of a group of people to present a certain topic can be challenging when all eyes are on you and freshman Addi Peden couldn't agree more. When I asked her what could make presenting more comfortable she answered, "Probably more one on one time with the teacher so I can be confident while presenting in front of my classmates. If I know it's good enough for the teacher, then I know it's good enough for my classmates too." Senior Ben Greiner shares that, "It really depends on the environment." The key to a successful and comforting presentation is to always remember that it's OK to feel nervous, but never overthink it because you probably aren't the only nervous person in the room to give a presentation.
Expecting perfection in everything you do can be the worst nightmare of a high school student. With all the pressure to succeed, it can feel like you're never going to stop worrying about assignment after assignment. Sophomore JD Allen explains the pressure as, "I do feel the pressure to succeed in certain classes more than others, but I feel like having a balanced schedule with stressful classes as well as laid back and relaxing classes has helped me to manage my stress." The biggest lesson that anyone could learn, not just high schoolers, is that it is impossible to be unfailingly perfect at everything you do. You will make mistakes, and you may feel defeated every now and then, but that feeling will pass. Learning from your mistakes will help you grow. 
Another thing that can cause unneeded stress for high school students is worrying about their physical appearance.
For some, it couldn't be a problem like senior Latrel Decoy, "I just pick stuff out of my closet, and boom I'm out the door." Another senior Kathleen Clay has the same mindset saying, "I don't really care about how I look at school since I'm more focused on finishing out my senior year. With having to wear masks anyway, I feel like makeup doesn't matter that much now." Sure it can be easy for seniors to feel like their physical appearance doesn't matter since they have been in high school for almost 4 years, but other students may spend an absurd amount of time trying to pick out the perfect outfit and having the perfect hairstyle. At the end of the day, worrying about how you physically appear to people at school is the least of your worries.
Have some confidence in yourself!
It would not be a real anxiety article if ACT scores and college planning were not mentioned. The most frustrating part of senior year for high school students is the dreadful three-hour test you have to take on a random Saturday morning- the ACT. So much planning and studying go into one test and it really can feel like your brain will explode once you take it. Senior Lydia Strieker explains the process of it, "Preparing for the ACT really put a good amount of pressure on myself." But, after you are completely done and never have to take it again, senior Jay Vandervoort expressed, "When it came to the time of having to take the test and make plans for college it seemed to be easier than I expected."
Having to make plans for college can be another huge stressor on top of just navigating through high school.
Senior Trey Watson shares, "Making the decision was super stressful and I would think about it all the time and just try to figure out what college is the best fit for me." After the decision is done he states, "It felt like a weight had been lifted from my shoulders." Typically when you finish something you have worked hard on the relief you will feel will be the best feeling in the world. 
High school may seem like a frightening place with all of the stressful factors that play a part in it and it can surely lead to having anxiety. But, we must remember that change can be the best anxiety reliever and that all of the worries will ultimately pass.