Boys Basketball Takes Flight!
Now that fall sports are officially over, it's time to take a look at our winter season teams, more specifically, our boys basketball team. 
Our boy's basketball team is relatively large this winter season, so there is a varsity and a junior varsity team. 
The varsity team is off to a strong start, with a record of 2-0. They had their first game Wednesday, December 8. And boy did they blow the crowd away, ending the game with a final score of 68-36. Right away, the team knew they had the game in the bag, taking an early lead in the first quarter. They kept up that energy throughout the whole game, maintaining a steady lead and forcing a running clock on the other team.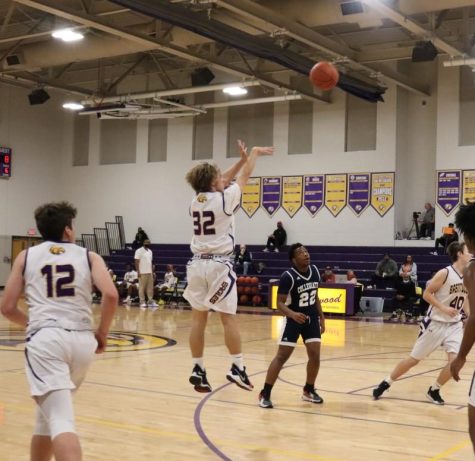 Carter Bowman, a sophomore on the varsity team, made his Brentwood basketball debut at the December 8 game. When asked about the game, Bowman said, "We played a really strong game and kept up our defense the entire time. We have really good chemistry as a team because most of us have been playing with eachother for a long time." He believes they have a solid team this year and has high expectations for the rest of the season. 
On December 10, the varsity boys were supposed to play their second game against Grandview Highschool, but it was stopped halfway through due to a tornado warning. It will be rescheduled for a later date. They then played their third game on December 14 against McKinley Highschool and won with a final score of 70-53.
The junior varsity team has had a shaky start, playing two games and unfortunately losing both. 
Their first game was against Grandview High school, where they sadly could not take the win. They then played on December 15 against McKinley Highschool. Although it was an extremely hard-fought game, they could not secure their place on top, and unfortunately, lost 41-45. 
Tyler Taylor, a freshman on the JV team, comments, "We could've had it, but three of our starters fouled out and we weren't taking the shots we needed." He thinks they could have a strong season if they work on ball movement and understand the fundamentals of their plays. 
Both the varsity and junior varsity teams have their final game before Winter Break today, December 17. They will play against Hancock, so go and support our Brentwood athletes!
Congratulations to our varsity basketball team for their first wins, and we can't wait to see how the rest of the season plays out.