According to the St. Louis Post-Dispatch, Brentwood Cross Country is already going the distance
After being dormant for 15 years, Brentwood's Cross Country program is back and it's not just the Brentwood community that is starting to take notice. Just this past Sunday, BHS freshman Kensington Curd was featured in the article "Brentwood, Curd announce arrival at Forest Park" in the St. Louis Post Dispatch for her performance at the 17th Annual Forest Park Cross Country Festival held this past Saturday, September 10.
What caught sports reporter Ben Vessa's attention? Curd, in just her second high school race of the season, raced in Forest Park's Gold Division against 154 runners and placed 5th with a time of 20:24. The week before – at the First Capitol XC Meet held in St. Charles – Curd also had an impressive showing, finishing second out of 36 runners in her division and placing eighth overall out of 109 runners. 
When asked what it felt like to be approached for an interview after her Forest Park race, Curd said, "I was just so surprised. I was nervous. I was excited. But it was like a big thing being featured in an article and especially for such a nice race. It was really cool reading the article."
Curd has been an avid runner her whole life. She ran cross-country until sixth grade before taking a break from the sport due to COVID. After the extensive two-year break from racing, Curd was ready to show off her skills yet again.
However, there had been an overwhelming lack of a cross-country team in Brentwood for years. So, Curd used her passion for running and her competitive fire to advocate for the return of the team. Her tenacity obviously worked, and much to Curd's joy, the program restarted with Julie Cohen taking on the responsibility of head coach. 
"I always said if we had a cross country team, I would consider coaching it because I really like it. It's a sport that doesn't take quite the after-school time commitment, and it's also something I can do with the kids. I've also found myself getting really into the strategy aspect of our races," said Coach Cohen.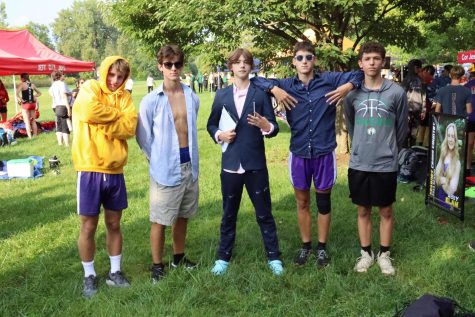 Along with Kensi Curd, Brentwood's newly established team consists of three other full-time runners: junior Avery White and sophomores Zeke Steensma and Willow Wagner. The team also has some part-time runners who compete with the boys team when their soccer schedule allows. This soccer-country/ cross-soccer hybrid team includes seniors Nick Moran and Andrew Moran, juniors Miller Chantharasy and Carter Bowman, and sophomores Jackson Curd, Logan Hawkins, and Lucas Kelley.
Steensma took on the role of heading up the search for speedster soccer stars. Steensma said, "I knew we needed a team and I also knew the Morans ran. So I asked them to join and they said yes and then everyone else just kinda flowed in. Now we have a cool group running."
Fingers crossed, the team will earn more spotlights and honors throughout their season. To catch a glimpse of these speedy stars, attend Brentwood's next meet on Thursday, September 15, at Lutheran North High School. We are so excited to see what this fiery new team will accomplish next!