A closer look at BHS's new African American History class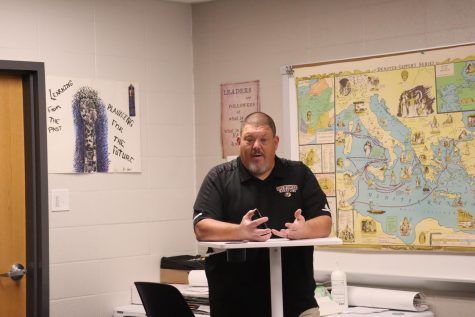 In any high school history class, there are time constraints as to how much content can be covered in just a year. For example, in an American History class, a teacher can't possibly go into every aspect of America's history in two semesters. So unfortunately what often happens when it comes to telling the story of how America was born, the majority of history books mostly focus on slavery when it comes to the African American experience.
With these limitations in mind, Coach Roy Hughes went about starting a new history class at BHS this year, African American History, with the aim of being able to truly cover the history and what really happened behind the scenes when it came to how Africans were brought over from Africa to the United States and their contributions to the U.S. since then.

Coach Hughes was first introduced to this idea of teaching an African American Class by a couple of students a year or so ago. He wanted to bring a new meaning to American History when it came to African American culture/history.
Gauging Interest
"I knew kids were interested in African American history. I also thought it was something we should offer our kids because it's oftentimes not addressed in all their other classes, and it's important," said Hughes. 
"Literally, all you would learn is about slavery for a couple of weeks and just specific parts of the country," said senior Ana Sanchez when talking about past history classes taken. "You didn't get to see where it all came from, specifically why it happened and what happened and the successes in between."
Once Hughes started asking around during the 2021-2022 school year, he found that many students were interested in taking the course, particularly this year's senior class.
"I wanted to learn more about my history (African American) because we don't really learn it in school or like anywhere else," said senior MaKenzie Hamilton. "You can google this stuff, but it's like, whoever put it on Google didn't really put it for us (Black people). So to have a class to learn all that this stuff and get more educated, that's what I wanted."
Getting the course approved
When asked about the approval process to get this class started, Hughes responded: "I think that whenever you're doing something different, and there's a change, it takes a while to get it going. Dr. Johnson was super supportive. You would also have to think about the interest in it and see what people would want to take it."
Once the class was approved, Hughes started preparing. To do so, he spent a lot of personal time over the summer learning. He took an online class, watched seminars, and read a lot of books. Yet, he still had his doubts if he was the man for the job.
"
Sometimes I worry, you know, I don't want to offend anybody. I've always wanted to be sensitive. At first, I was really stressed out, personally, because people are gonna look at it like, 'hey, it's a white teacher teaching a black history class; what frame of reference would he have?' "
— Coach Hughes
While his concerns were understandable, now that the class is underway, he is feeling more confident. It helps to see how much his class is enjoying the course. 
"Normally, I would think that a white person doesn't have a place teaching this type of class because of the content we're covering," said senior Haylie Minshall. "But Coach Hughes took time out of his life and paid for classes to make sure that he was able to teach the class properly. He knows that if he didn't have the credentials to teach this class, he wouldn't be the right person to teach it."
"These kids in the class have been awesome," added Coach Hughes, "especially with the understanding of the work that I'm putting into it. I also feel like I shouldn't feel as concerned with kids in my class because there a good group, and we're doing this to help each other learn. And I've told these kids before to just be patient with the class because I'm also still learning, just like everyone else. We're learning together, and it's a pretty cool thing."

Just three months in, it seems that he is already reaching his aims as far as students being able to learn much more about the African American experience while enjoying the class.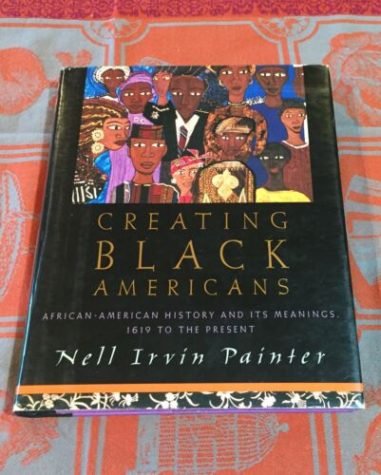 "I really hope that this class gives students an opportunity to feel like they've been able to study something that really validates who they are and gives them something to identify with culturally," said Hughes.
Lasting Impact
In addition to his hope that his class impacts his students, Hughes also hopes it positively impacts the district and the community. "As a school, it's a great step forwards in showing sensitivity towards racial equality in academic areas, not just social areas. This class is a step in the right direction for students to be able to have opportunities to study things that are really meaningful to them," said Hughes. 
 Not only does Hughes feel strongly about his new course at BHS, he also feels that other districts  should feel obligated to teach the past of minorities such as African Americans. "I think that everybody's history should be taught," he said. "Like in our World History class, I always try and tell people to look at it from the other's perspective. I don't think that we can put specific obligations on people to teach certain things and to cover stuff like that is a state standard requirement. But I think that in order to serve students and their families well, we need to be able to present things that are culturally relevant, and it's difficult to make sure everybody has a way to connect with their education. But until we start doing that, we're just going to do the same old things."