Jumping Right In: Fall Jamboree Madness
The Friday Night Lights were bright and ready on August 23rd for the football jamboree at Windsor High School. Playing 3 different schools, Brentwood had a few short matches and no official scoring. The Eagles battled against North County High, Northwest High, and Potosi High. Records were not kept, but Brentwood was feeling pretty confident in their efforts. As a football player and junior, Thomas Suntrup said, the team was "focused on improving and shaking off the rust, and I feel like that's exactly what we did." As we can see, the Eagles are eager to get their season started and go hard to bring home some wins this fall.  
At St. Joseph's Academy on that Friday, the field hockey girls were playing hard, as well. With Brentwood combined with U-City schools for their second season as one team, they fought through each game. Playing Barat Varsity to kick it off, the Eagles stood strong and ended the game in a 0-0 tie. Next up was Parkway Central Varsity. This game was one for Brentwood, finishing it with a 3-0 win. Kathleen Clay proved to be working hard with two assists and one goal. Well done, field hockey! We hope this fight continues on throughout the season and leads them to be champions.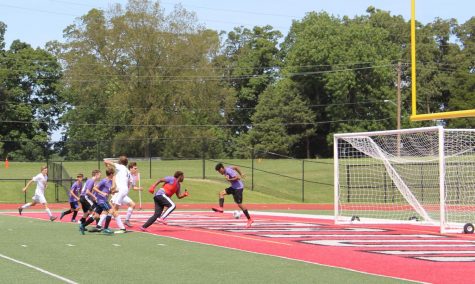 On that following Saturday, the soccer boys played their way across Fox High School's field. Playing a total of 3 matches at 25 minutes each, the outcomes varied from game to game. Starting off against St. Pius High, the many young players had to be on their A-game to keep up. Ending with a 1-0 loss, the boys were ready to take on their next opponent with more intensity. As head Coach Cory Grage said, they have a huge team this year with many new, beginner players. Game two was against Farmington High School, ending in a 2-0 loss. But, the third and final match versus Lutheran South was one with lots of fight. Cody Hughes came out hot and hungry for a win, scoring the first goal of the game in the first half. Within the last 10 seconds, Lutheran South escaped with a breakaway, tieing the score 1-1. Overall, the boys all got their feet wet and got a taste of what's to come this upcoming soccer season. Way to fight, soccer!
Brentwood is pumped to have such large and tough teams this year! We cannot wait to see each sport's progress as the seasons go on.
View Comments (1)