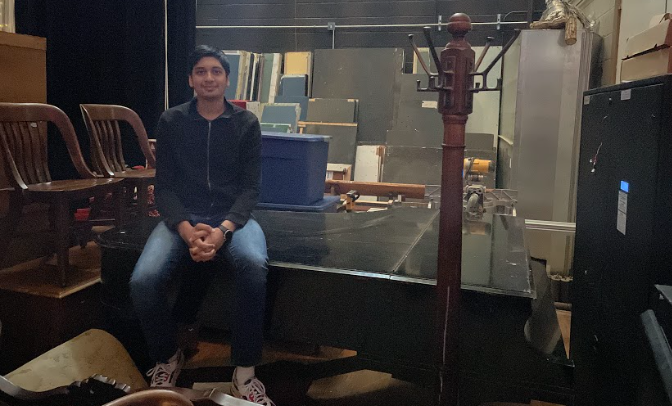 Behind the Scenes: Set Building with Abhigyaan Deep
Imagine this, if you will: you're at a theater watching the latest production. You're soaking in the magic of the actors and costumes that make you feel along with them on stage. What you might not notice at first glance, however, is the most immersive part of the production, the set.
"Set Building" is an often overlooked and underappreciated aspect of theatre implemented relatively obscure at Brentwood compared with various other theatre departments. As you might have guessed from the name, "Set Building" is building the play's set on our stage, which at Brentwood is overseen by our art teacher Mr. Rempel.
Abhigyaan Deep is a Senior at Brentwood High School. In addition to his significant contributions to our robotics team, The Nerdy Birds, he has worked on many Brentwood stage productions as a "Set Builder." Abhi has a similar definition for the process, which he describes, "It's what the name says. You build a set from individual pieces of wood. You have flat pieces of wood that make walls, and you got two by four inches pieces of wood that you can make structural supports from, and we just assemble them. It's that simple."
This technical and engineering aspect keeps Abhi invested and involved in "Set Building" over other theatre departments. His outlook on the different departments is, in his words, "Well, in the other theatre departments, you mostly just learn about how stuff is made. But over here, you get to actually work on it. Even if you do get a chance to work on 'Set Building' in other clubs, there's a good chance that you don't use very powerful machines that are off-limits to students. Now, this is not dangerous at all under the supervision of Mr. Rempel. It's quite safe to operate this equipment. So it's kind of fun to learn these exotic tools."
And with the use of these unique tools, "Set Building" can make each set feel unique and distinct. From the small staircases and walls that make up the set of "Box Sets" such as The Heiress and, most recently, Arsenic and Old Lace, or the massive mobile sets seen in productions like Annie, each set can be very different for the audience and builder.
Despite these significant differences, all our sets at Brentwood share one particular connection, their materials. Each new set built here is constructed with wood planks and boards that have previously experienced shows.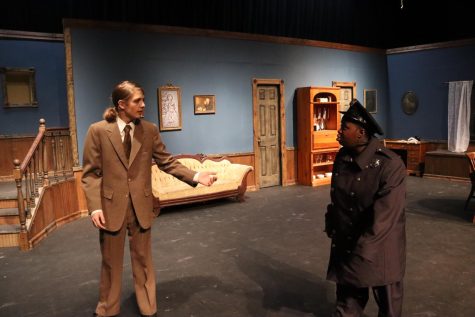 If you were to go backstage on our most recent show, odds are you might still spot some red poppy's from our production of The Wizard of Oz painted on the back of a wall. In addition to using heavy-duty equipment and variety in sets, "Set Building" also has the benefit of operating outside the regular theatre schedule and only working on Saturdays.
But arguably, the best part of "Set Building" is how easy it is to do and get involved. Abhi describes, "You just show up. You're given instructions, and depending on how long you've been there, you're given more and more sophisticated tasks to work on."
Getting involved with theatre was the only thing that came to Abhi easier than the work. He recounts, "Mr. Rempel just one day came up to me, and he was like, 'Do you want to help us out?' And I was like, yeah, what better way to spend a Saturday than building a set that the school earns a bit of money for?"
Abhi has served on "Set Building" ever since and plans on continuing for his remaining time at Brentwood, so stay tuned to see the whimsical sets Abhi will help assemble!