The Covasettes: Your new summer soundtrack
The Covasettes, a Manchester-based indie rock band, made a splash in the music industry with their 2017 debut single "This Feeling." And ever since then, they have continued to gain traction, with one of their songs going viral on TikTok and now starting to sell out multiple headline shows. The band – Chris Buxton as lead singer and guitarist, Matt Hewlett as lead guitarist, Jamie McIntyre as bassist, and Matthew Buckley on drums and percussion – draws inspiration from notable bands, including the Arctic Monkeys, Two Door Cinema Club, and Coldplay. If you're a fan of summertime, get-on-your-feet indie rock, The Covasettes would definitely be a band worth checking out.
Their happy story begins way back in 2016 at the University of Manchester when Chris Buxton and Matt Hewlett met and started writing songs together and performing them at open mic nights around town. After gaining some recognition from the audience, they decided to form a band. Jamie McIntyre and Matthew Buckley soon joined them, and together, they began what we know as The Covasettes.
I discovered this band one day by chance through Spotify's Discover Weekly playlist feature, and I have been a massive fan of their music ever since. The Covasettes perfectly capture the psychedelic indie rock sound I have been desperately searching for in a band. Their catchy melodies and mesmerizing lyrics make them irresistible, and I've been hooked from the first listen. 
This band offers a diverse range of music that really showcases their versatility and skill as songwriters. Although their primary genre is indie rock, they have ventured into the waters of beachy, upbeat summer hits that are sure to get you moving. Their music is characterized by its ability to evoke feelings of happiness and a sense of summer. The flexibility in style and sound, as well as their skillful lyricism and musicianship, make them really stand out in the crowded indie-rock scene.
"A band shouldn't just have one sound," comments Chris Buxton in an article by The Bucket Playlist. "You should go where the wind takes you. We like to change it up. The new songs are chill, surfer-style. Eventually, there'll be a song for everyone!"
The Covasettes' most popular song, "Be Mine," achieved viral success on TikTok and has amassed over one million streams. This track has a rock-heavy sound, featuring mesmerizing guitar riffs and powerful drums that contribute to its catchy and infectious nature. The lyrics of this song convey the depth of the person singing their love and affection for someone, and many have praised it for its powerful and emotive lyrics. 
"

I could make you breathe love like the old days / Give you butterflies, make you feel off the pace / I could make you so, I could make you so high
The lines I could show you how, how it feels to be mine / How it feels to be mine are particularly striking, as it evokes a sense of longing and desire for a romantic connection. The song's lyrics are relatable and paint a vivid picture of the emotions of the person singing it. The use of imagery and figurative language in the lyrics adds depth and meaning to the song and makes it more impactful. The song is a reflection of the human experience of falling in love and longing for a relationship, making it a universal theme that resonates with the listeners. Overall, "Be Mine" is a standout track that showcases The Covasettes' ability to craft hit songs that will stay stuck in your head long after the song ends.
Another song worth checking out is their most recent release "Plastic Gold." Although the song hasn't gone viral like "Be Mine," it's a favorite of mine and my sister's. On the day it was released last summer, we were on vacation with our family and it quickly became the vacation anthem. Now every time we listen to it, one of us will comment on how it reminds us of a significant part of summer. 
And that's what The Covasettes do best.
Everything comes together, the music, the lyrics, the beat, to create something that you are bound to be enthralled with. It is a pure dose of serotonin and is the perfect anthem for summertime adventures. The song has a nostalgic feel to it and serves as a reminder of special moments and memories. "Plastic Gold" is a testament to The Covasettes' ability to craft meaningful and relatable lyrics that speak to the human experience.
The Covasettes offer a diverse range of music that caters to both fans of upbeat, summery songs and those who prefer darker, hypnotic rock tracks. With only 50,000 monthly listeners on Spotify, they are still relatively unknown, giving fans the opportunity to discover and enjoy the band's music without the crowds. If you're a fan of summery, upbeat songs with a hint of nostalgia or a lover of darker, rich rock songs with a dose of nostalgia, The Covasettes are the perfect band for you.
Check out some of The Covasettes' music!!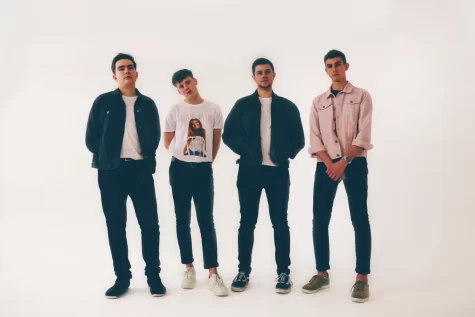 Guidelines for Commenting: No profanity, stay on topic, don't negatively name individual people *Please keep in mind this is a high school newspaper, please comment accordingly.*