Puss in Boots: The Last Wish delivers a paws-itively delightful installment into the Shrek franchise
Puss in Boots: The Last Wish, released in December of 2022, is the sequel to 2011's Puss in Boots and the latest installment in the Shrek franchise. The Last Wish sees the return of series mainstays Antonio Banderas and Salma Hayek while also welcoming new talent to the roster with the likes of Florence Pugh and John Mulaney. After an 11-year hiatus from the big screen, many fans – including myself – were delightedly surprised by the new film, which manages to push the storytelling and animation capabilities of the series to deliver a film as illustrious in color as it is an adventure.
The Last Wish continues the story of one Puss in Boots (Banderas) as he scrambles with old allies and new adversaries to find the mystical "Last Wish" and regain his nine lives. This "Last Wish" serves as the film's McGuffin, a primary device that drives the plot forward, motivates characters and provides a great look into the minds of each character through their reasons for wanting it. Through its fast-paced story, the film strikes the perfect balance of swashbuckling shenanigans and thought-provoking depth. Nowhere is this balance reflected more perfectly in the movie than in its three villains. The villains: Goldilocks (Florence Pugh), Jack Horner (John Mulaney), and Death (Wagner Moura), each come off heartwarming, hilarious, and outright bone-chilling, respectively. I was amazed at how well each villain fit into the story so perfectly, allowing the multitude of characters to enhance the mad race around them while having each play off of each actor's exceptional voice-acting performance.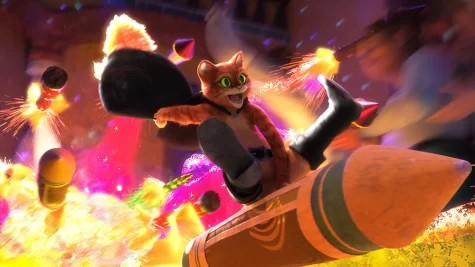 Each character acts and speaks with a depth of character rarely seen in animation, save only for the delightfully despicable Jack Horner (John Mulaney). The frankly animated performances and characters are outdone only by -well, the animation itself!
After three sequels, a spin-off, and multiple specials, the Shrek franchise had only made a profound change in its animation style in this latest installment, and the new style exceeded all expectations. The revamped character designs and backgrounds work wonders for the sequel, giving new life to a franchise that the internet has all but reduced into jokes and memes. The new artistic direction also serves as an example of the movie's uniqueness. Despite being part of the Shrek universe, The Last Wish requires no prior knowledge of the franchise and stands exceptionally well as a standalone film.
Overall, Puss in Boots: The Last Wish is a fun adventure that saves for some tense moments the whole family can enjoy. The film keeps the Shrek legacy alive by presenting a movie with humor and depth for all audiences, regardless of age. The Last Wish also excels through its new and exciting animation and highly entertaining side characters surrounding a surprisingly solid story with humor and heart at its center.
Guidelines for Commenting: No profanity, stay on topic, don't negatively name individual people *Please keep in mind this is a high school newspaper, please comment accordingly.*