New coach, new season for girls soccer
The girls soccer season is officially underway! This year, the team has a new female coach, making it the first time since 2001. That means it's been 22 years, and Coach Simorka is excited to take on the team. 
So, let's get to know Coach Simorka
Coach Simorka played many sports when she was younger and continues to keep up her healthy lifestyle. She is eager and has a lot of ideas for this upcoming season. She coached varsity girls' soccer at McCluer North High School and with Lou Fusz soccer club. 
She has played soccer since she was five all the way through her sophomore year of college. She has to stop because of knee injuries in which she had four surgeries.

Being the new coach comes with new plans for the team. Coach Simorka said, "For this upcoming season, I am hoping for positive outlooks and attitudes and I am planning to do more team-building activities throughout the season." 
How is the team feeling about this season?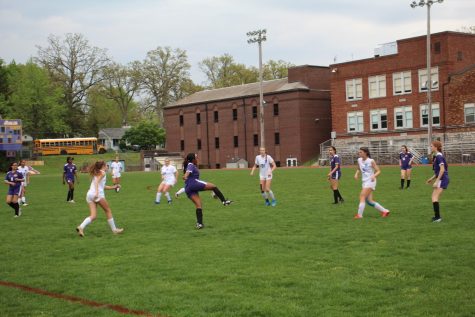 New people join soccer every year, but this year there are a lot of changes to the team. Let's talk to a freshman that is eager for the new and improved soccer season. 
Kensington Curd has previously played club soccer. Her main positions were forward and center-mid, and she hopes to play the same ones this year. "I am looking forward to the season. Even though I played on a team before, this is my first time in high school."
Now to one of the seniors. Eloise Ayotte has played soccer in elementary and high school but has been taking it more seriously these past four years. She plays left mid-field. "I'm excited for a new coach, and I am looking forward to my last season of soccer at Brentwood," she said.

The first game is March 27th, hope to see you all there!