BHS baseball is in full swing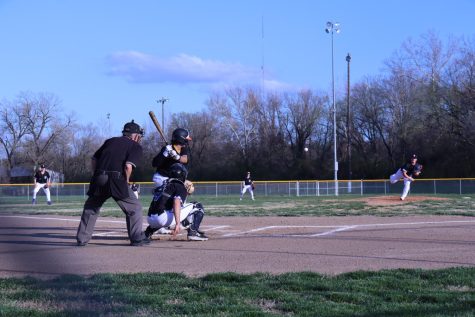 The home opener for the Brentwood High School baseball team was on April 3rd, 2023, and they played against Maplewood at 6:00 pm. With some all-conference players returning for the season but no new freshmen, there is a critical question in mind. How will the team look this year?  
The coach of the team is Andrew Baxter. He has been coaching baseball for fourteen years. He first started playing when he was only seven years old. He played as a pitcher, catcher, and first baseman. After his playing career, baseball inspired him, and wanted to coach a team. At 19, he took a job as an assistant coach with the Southwest Stars in St. Louis, Missouri. He had a great mentor that helped him get involved with coaching, and he fell in love with it immediately. His goals for the 2023 season are to compete in every game and play for a district championship. 
"The team is a reflection of the strong senior leadership we have with Louie Magee and Ian Thornton. We have several returning all-conference players that will lead our team," said Baxter. "On the mound, we have Trenton Mitchell and Ryan Potts. On the field, we have Jackson Curd and Ethan Ritter returning after a successful season last year. We have several returning players who will step into new roles such as Abel Curdt, Noam Still, and Madden White-Schnarr." 
Ian Thornton is one of two seniors on the Brentwood Baseball team. He plays anywhere in the outfield. His coach has described him as someone with strong leadership. Thorton believes that the current baseball team they have now is better than last year's team. He added, "I'm mostly looking forward to the districts and new jerseys." 
One of the pitchers on the mound is Ryan Potts. His main position is pitcher, but he is able to play as a catcher or 3rd baseman. He enjoyed watching baseball for years and was inspired by Ronald Acuña Jr.: "I look up to him because he's cool." He was willing to try it out.
Potts has been playing baseball for seven years. On occasion, in the summer, he plays club baseball for the Rawlings Tigers. The Tigers are a club located in Chesterfield, Missouri. Ryan is very enthusiastic about playing baseball this season.
Another returning player Coach Baxter mentioned is Jackson Curd. He plays shortstop for the team. He started playing baseball around the age of eight but started with t-ball when he was younger. Jackson said, "I just picked up the baseball and started playing; I enjoyed playing the game." Similar to Ryan Potts, he plays in a separate baseball club called The St. Louis Pirates. 
The players on the Brentwood High School baseball team are all looking forward to competing in the 2023 season. Coach Baxter said, "Our baseball program is very competitive." This is why you should attend the Brentwood Eagles baseball games. The next game is listed below and we hope to see you there supporting Brentwood!