Mrs. Weltmer: Brentwood's best-kept secret
The Special School District has always played a key role in helping some of Brentwood High School's student population, but to this day many people still don't know how it works or what it does. To explain it in simple terms, the Special School District of Saint Louis County, which is considered its own school district, employs teachers who are then placed in other school districts such as Brentwood. According to the SSD of St. Louis County's website, it works with 24,728 students in 265 schools across St. Louis County. Once a SSD teacher is placed in a partner school district, they are matched with students who have IEP's (Individualized Education Plans), so they can help teach the students learning strategies on a consistent basis to help the students achieve at the rates they need to succeed.
At Brentwood, Mrs. Weltmer is one of these teachers employed by SSD. Although this is just her second year teaching at Brentwood, before she taught at Windsor School District, Word of Life Lutheran School, and Lutheran South High School. Here at BHS, she teaches Special Education and Essentials of Algebra, an introductory math class for those who have disabilities. In contrast to normal classes, her classes are smaller and more goal-focused. With these goal-focused classes, she has the chance to see the growth her students have, which she very much enjoys. When asked what the appeal was for this profession, she said, "I taught Sunday school and worked with kids who were disabled, and I knew that I was drawn to that area."
Many teachers have had their own positive experiences with her, such as Mrs. Cohen, who was ecstatic to receive a laminated and perfectly organized testing accommodations schedule from Mrs. Weltmer, which also included candy and a cute notepad and pen. "I was so impressed with the time and care she put into making sure every student who had testing accommodations received them while also making the reminder thoughtful and fun for the teachers," Mrs. Cohen said.
Many other teachers have the same sentiment. Another teacher, Mrs. Yolanda Gully said "She's really kind! I definitely enjoy her as a coworker, and as a friend."
"
She is a fantastic, helpful, and supportive individual, and I'm so happy to be her coworker!"
— Mrs. Musterman
Aside from teachers, students are also very ecstatic about her. She's been known to be very attentive to students' problems and helps them accordingly. Junior Sophia Lee said, "She's very fun to be around, and she's really encouraging. She's really supportive, and let's you know when you're doing something right." Senior Reed Durham seconded the sentiment. "She's always kind and caring," he said. "She's like a ray of sunshine for us!"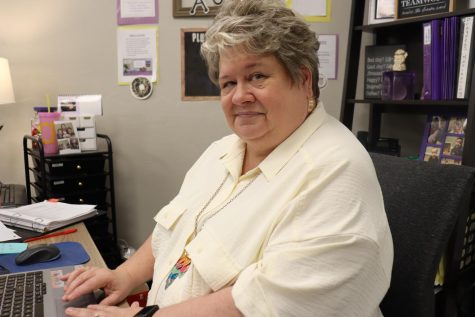 Outside of being a teacher, Mrs. Weltmer enjoys hobbies such as reading, walking, scrapbooking, and watching crime documentaries. She also has a huge appreciation for coffee, which is shown by the various coffee-themed antiques in her classroom. She seems to have a knack for making her classroom comfortable and calming to those who need it, even to the teachers! All in all, she's a great person, and she definitely deserves the respect and positivity she receives.