Spring band concert returns with classics and, for the first time, two student-arranged pieces
The sound of music will fill the air this Thursday, May 4th, at 7 p.m. in the auditorium at the Brentwood High School band concert. The concert is a culmination of months of hard work and dedication by both students and staff. It promises to be a night of music, fun, and entertainment for everyone. Under the guidance of Mr. Grant Krener, band director, and assistant directors, Mr. Carosello and Mr. Davis, the band has been practicing rigorously to prepare for the concert.
The concert will showcase many talented students from all grades, including members of the Guitar class, Jazz Band, and High School Band.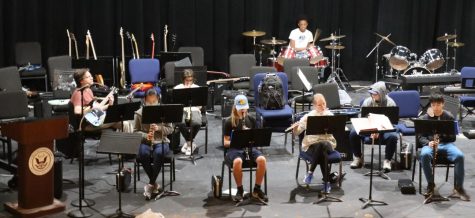 The concert program features an exciting mix of classical and well-loved pieces. The band will perform well-known works such as "Devil Went Down to Georgia" by Charlie Daniels, as well as some modern arrangements like "Mr. Brightside" by The Killers.
This year's band concert also includes two student-arranged pieces created by Ian McAllister and myself (Kevin Ou). This will be the first time the concert has featured student-arranged pieces. I chose the piano piece, "River Flows In You" written by Yiruma, and arranged it into a piece that the guitar class can perform. This piece requires good note-reading skills to learn, especially regarding rhythm.

"I wanted to play the song 'Tequila' famously written by Chuck Rio of The Champs," said McAllister, "it's a fun, easy, catchy tune that people know, and it's good for group soloing. I was inspired to do this song when I heard Wes Montgomery's version of this song. Wes was a jazz guitar player who did a jazz guitar rendition of this song that I really enjoy."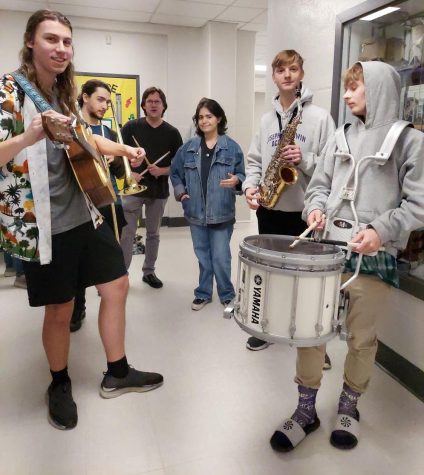 One of the band members, Teagan Karetski-Smythe, a junior guitarist, will be singing a couple of songs including a big solo on "Sweet Child O' Mine" by Guns N' Roses. "I'm excited for the concert but also a little stressed out and I'm hoping everything goes out well," Karetski-Smythe said.
Mr. Krener has been teaching music for almost three decades and has a passion for music education. He ran his own private guitar studio for 15 years and taught at Jefferson College and Lindenwood University and currently plays with four different bands. "The audience will expect to be entertained by well-loved songs in the music category and have a good time listening to popular music in the great American songbook," he said.
In conclusion, the upcoming Brentwood High School band concert promises to be a night of music, fun, and entertainment. The students have worked hard to prepare for the concert, and it's an opportunity for the community to show their support for music education. So, mark your calendars, and get ready to be transported by the magical sound of music.
While you're marking your calendar, also note that the middle school also has their band concert this week. They perform tonight, May 3rd, at 7 p.m. in the Brentwood High School auditorium.