Serve it up with Dr. Garrett
One of the new teachers this year is Arthur Clay Garrett, who teaches learning strategies. He is also the Assistant Volleyball Coach. Garret grew up with his mother and six brothers; his childhood was happy with lots of love but little money. Although a stable family structure wasn't around when he was little, Garrett tries to build his own family to the best of his ability. His teachers in high school made a big impression on him, and that's what he works to do as a teacher.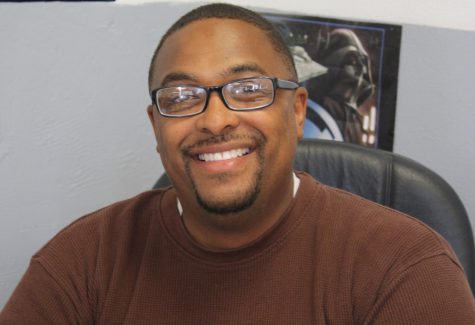 Before Garrett was a teacher, he was a lawyer, and his undergraduate degree was in Pre-Law, and Sociology, with a minor concentration in Psychology. He is still a lawyer but has not worked in the law field since 2006. Garrett's last legal job was in a civil litigation firm. His firm sued big pharmaceutical companies on behalf of people who were harmed by their medications, and they also helped people who developed cancer from asbestos exposure. When Garrett was in law school, he was substitute teaching. There was a young girl who had a question about life. When he responded, he could tell that a light bulb went off in her head. From that day on, he knew he wasn't going to be a lawyer forever.
"
"I've been wanting to be a teacher for a long time. I was born to be a teacher.""
— Arthur Garrett
Garrett has been teaching for thirteen years at schools such as Roosevelt, SIUE, and Confluence Preparatory Academy. He teaches learning strategies, which is a course dedicated to teaching students better learning methods. This includes techniques for improved memory and better studying or test-taking strategies. Garrett would call his teaching style relationship-centered, and firm but fun; he works hard on relationships and rapport. This is Garrett's fifth year working with volleyball players. He was a volunteer coach at Lovejoy Technology Academy and coached at Confluence Preparatory Academy. Dr. Garrett wants to teach athletes to love having fun playing the game. He also believes that we build character through athletics: "Coaching the new volleyball team is awesome, and it's been really fun getting to know these girls and their parents."