Baking with Tradition: 80 Years A Cook
As a young child, my Oma was forced to leave her Romanian home in the middle of the night, barely any time to grab belongings and run for her life. She settled in Austria with her family, living a simple life in a house with dirt floors and minimal rooms. Eventually, their route changed again, this time to America. 
My Oma eventually married my Opa, a German immigrant from the Black Forest. He came to the United States at my age, 18, alone, and ready for a new life. The two built a home here, in St. Louis, full of German heritage. From the large German gatherings they'd host at their house to German decorations and traditions, the two found ways to bring a little bit of home to Missouri.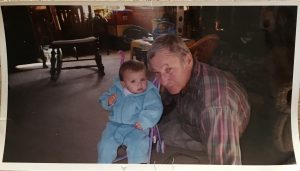 My Oma was known for her cooking. She was always in the kitchen with a spoonful of grießbrei or spätzle, something just for us "Kindern". Oma would cook huge German meals for Easter, Mother's Day, and Christmas. There were some treats we only got on occasion, like schnitzel or cheesecake, coffee cake, and crepes. She knew how to throw in a little bit of this and a little bit of that, in just the right amounts to make something magical. 
Today, at 80, things aren't always the same. But she knows, and remembers, her talented hands and the many years of dough and memory folded into them. As a food lover and baker myself, I owe many of my recipe ideas and passion for creating to my Oma. As times are getting rough, we turn to food for comfort, togetherness, and love. Holding her recipes with gentle hands and an open heart, I am beyond grateful to get to recreate her old dishes. 
I know many of you are bored, stressed, anxious, and overwhelmed right now. Getting into the kitchen to whip up something simple and sweet might be just the thing for you, as it is for my Oma and I. Today, I share my Oma's Viennese Crescents, a minimal ingredient cookie that's sweet and light. Plus, it is the perfect "Nachtmittags Nachtisch" or afternoon dessert!
Here is a follow along video:
https://www.schooltube.com/media/Oma%27s+Viennese+Crescents/1_7ycyvue3 
Here is the recipe:
Oma's Viennese Crescents
1 cup (2 sticks) of soft butter
½ cup sugar
1 cup finely chopped almonds
2 ⅓ cup all purpose flour
1 tsp vanilla extract
½ tsp almond extract 
1 ½ cup powdered sugar
In large bowl or mixer, cream butter and sugar until light and fluffy. With mixer at low speed, stir in almonds, flour, and vanilla and almond extracts; mix just until blended. With hands, shape 1 tablespoon of mixture at a time into round crescent sections. On ungreased cookie sheets, bake in a preheated 350 degree oven for 15 minutes or until lightly browned on the bottom. Cool slightly. While still warm, roll in powdered sugar.
Leave a Comment