Dressed to Impress: The Nest's red carpet coverage of Homecoming fashion
After no Homecoming dance in almost two years, Brentwood High School students showed that with a little time, they could dress to impress.
But before we dig into our breakdown of best dressed, tune in to Elliot Wright, staff reporter for The Nest, and Justine Favazza, staff videographer, who bring us ringside coverage of student arrivals on the "red carpet" (sidewalk). This talented duo report on all that is important: the flair, the fashion, the glitz and the glamour.
"
The theme of the night was "Fairy Tale/Fantasy," which made for a magical evening, but it didn't matter if you believed in fairies or dragons, the real magic was in the fashion."
— Cameron Bethea
First up on our best-dressed list are these three beautiful ladies: seniors Savannah Epps, Sammy Morton, and Skylar Schoenberg.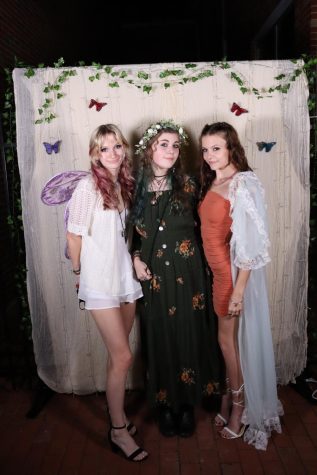 Epps (left) is wearing a white romper she chose to "go basic," she said, and pigtails. She bought the romper from "Altar'd State" and everything else she had borrowed from her friend Skylar including her shoes. To match the theme, she added purple fairy wings. Everything about this 'fit made her feel pretty and that's all anyone can ask for. The best part of clothes is the way you can change what you're wearing to reflect how you're feeling that day. "I think I can style this romper anyway and it would still look cute," Epps said. "I'm so excited to wear this romper again." When asked who she thought was the best dressed, Savannah raved about senior Mya Lucas' outfit which featured fairy wings as well. "She was rocking them!"
Sammy Morton (middle) picked her outfit based on the theme, too. "I got my dress from Ross and most of my other accessories from Amazon, Earthbound, and Hot Topic," she said.  Morton paired crystal necklaces and a mini mushroom snow globe necklace with her forest green dress. She also wore mushroom earrings and beaded and floral bracelets to match. While this isn't something that she would wear to school or walking down the street, according to Morton wearing this made her feel powerful, like Merida from the movie Brave. Morton was so excited when she was told the theme of homecoming, "I think my outfit went well with the theme, I kinda got Cinderella as a maid vibes from my outfit," Morton told The Nest. "In my opinion, I think Skylar, Savannah, and Mya were best dressed. We all actually matched the theme and we looked perfect doing it."
Skylar Schoenberg (right) expressed how everything she did was last minute, "I liked the pink color and how it wasn't too pink, I got the dress from Windsor and my cover-up thing was from Goodwill!" Her dress wasn't something Schoenberg would usually wear because tight clothing isn't really her thing. She thinks if she had more time she could've made it better, but she used her time wisely, and in our opinion, made it perfect. It was her plan to match the theme, too, so she picked jewelry that she thought would fit with the outfit, but the shoes were a different story. "My shoes were killing me, though, like bad," she said. "They were a struggle to find, and I did find them — just a half size too big." Other than herself, Skylar said that Sammy and Savannah were the best dressed, but she also loved senior Jordan Bradley's 'fit.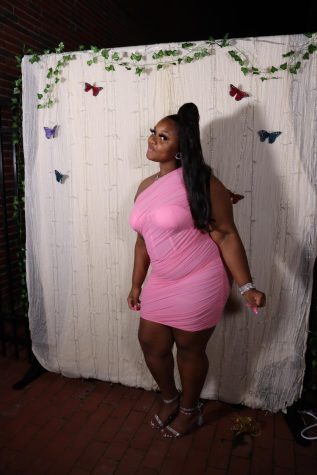 Next up is Brianna Harris looking pretty in pink. The day before homecoming Brianna went to Akira in the Galleria to get her dress. Her goal was to push herself out of her comfort zone. "I picked pink because I wanted to be different and wanted to be the brave person that had such a bold color on; this is not something I would usually wear," she said. To go along with her dress, Harris picked her shoes because she had never worn silver glitter shoes and wanted to try something new. "Since I like everything to match, I got silver heart earrings, a silver bracelet, and a sliver "B" necklace." Harris wants to remind everyone that you can't forget about the nails. She went with a pink base with pink and silver accent nails on her pointer and ring finger, and for her hair, she went with a half up half down look. This whole outfit was amazing, but if Harris could change anything, it would be her shoes. She ordered them too big. When she got over that hurdle, Brianna's whole outfit made her feel good and she was proud of herself for wearing it and overcoming some insecurities. Next, she applauded her whole friend group, males and females on their outfits, "We put that on for Hoco 2K21!"
Finally here comes the royals of our Fairytale/Fantasy homecoming: Hayden Bender and Penny Herrera. 
Bender wore a white button-up shirt, a green tie, black pants, a plaid jacket, and black boots, all of which didn't take long to find because he already had everything in his closet. While he didn't purposefully try to fit the theme, most of the decorations were green. Bender also wore silver jewelry (that he stole from his mom). "I picked green because Keira [Howard] and Jonas [Wall] and I all chose to match and wear green," Bender said. "The three of us all had matching nail colors, and I chose to wear some green makeup as well." Bender also says that accessories are the best part of the outfit, so he wanted to go all out. Normally, he already wears black pants and a white button-up to work, so he felt perfectly comfortable while also looking somewhat formal.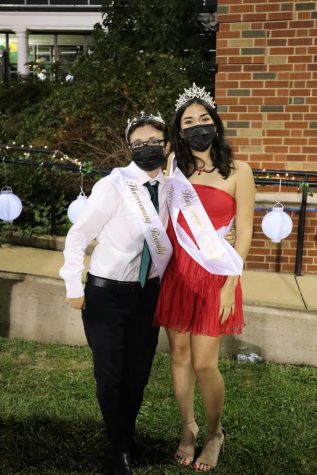 Student council president and homecoming queen, Penny Herrera, chose to wear a red short strapless flowy dress for homecoming, "I was at the Windsor store and the dress was on a mannequin and it caught my eye. I had literally just told my mom I didn't like red, but I ended up loving the color and the design." The fit and design of the dress is something Penny would usually wear, but the bright color is something new for her. "This outfit made me feel very beautiful and confident," Herrera explained, "I think that my outfit tied together in the end even though I found my jewelry the day of homecoming." For jewelry, Penny found some gold chunky hoops and a gold and red flower necklace. Penny thinks that the best dressed were Hayden Bender, Keira Howard, and Jonas Wall. "All three of them coordinated the colors they wore — from their clothes to their nails!"
Good work Brentwood High School. Can't wait to see what you're wearing to prom.