BHS hosts its inaugural Sophia Rivera Track Invitational
For many years Brentwood High School has hosted a track and field invitational, but this year was different. On April 17th, the annual meet was given a new name: The Sophia Rivera Track Invitational, named after an alumna who continues to excel at the sport.
In honor of the newly named meet, Sophia Rivera returned to Brentwood to celebrate her achievement. "I love it, honestly, I've come back a few times after college," said Rivera. "But this is the first time I've been back after the school has been renovated," said Rivera. "Brentwood is such a family, I loved spending time and making good friends here."  The athlete who currently attends Mizzou graduated from Brentwood in 2016.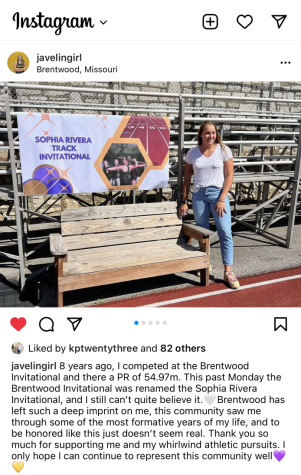 While at BHS, Rivera was one of the throwers on the track team; some events she competed in were javelin, shot put, and discus. She added, "The throwers went to every meet as a game, and we just had the most fun going to state."  
Coach Long, BHS's current head track and field coach, coached Rivera throughout her years at Brentwood.
"Her attitude has been to always work hard and do her best and she is very humble," said Long. "It was simple to coach Sophia, she has been throwing since 5th grade. She was already knowledgeable about what to do for training."
With her club track and field team, in 2015, Sophia won her first award as the Girl's Shot Put Champion in Missouri. After that, she proceeded to win the National Championship in the indoor shot put three times. She is a multi-state champion in multiple events including javelin and outdoor shot put. In 2015, she also placed 2nd in the 2015 World Youth Championships. 
Rivera is now 24 years old and is working on a masters degree at Mizzou but is still able to compete at the collegiate level because of losing a season to injury and then losing a season to COVID-19. "It's very different doing a sport in college," she said. "One thing I miss is being able to do multiple sports. The training is very intense but it's a cool opportunity, we just got back from California." For students interested in a college sport, Rivera advised, "Don't underestimate the power of rest, an injury can take you out faster than you can think. Make sure you enjoy what you are doing." To note, Rivera is currently ranked 83rd in the WORLD for the Women's Javelin Throw.

NEW NAME FOR A NEW LEGACY
Coach Long is the one responsible for renaming BHS's track meet to Sophia Rivera Invitational. "The best way to put it is, I'm wrapping things up for myself I wanted to do a few things to wrap up my time here," Long said, explaining how he is nearing retirement as a teacher and coach. "As far as that goes, Sophia Rivera has a legacy here," he continued. "When you see other people's names after a track meet, it's pretty cool and important. She's still a young adult herself."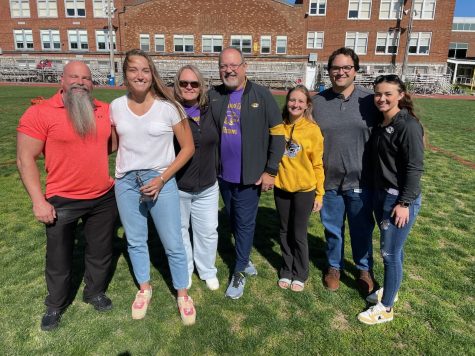 Coach Long still follows up on Rivera's college career, and the two collaborate with each other. At April 17th's meet, they had a chance to catch up and celebrate her most recent achievements. In fact, Rivera is hoping to compete at the 2024 Olympic Games under the flag of Puerto Rico. 
Congratulations to Sophia Rivera on earning her namesake track meet and inspiring us all.