For many years Brentwood High School has hosted a track and field invitational, but this year was different. On April 17th, the annual meet was given a new name: The Sophia Rivera Track Invitational, named after an alumna who continues to excel at the sport. Read more about Sophia Rivera here along with a preview of this season's team.

BHS hosts its inaugural Sophia Rivera Track Invitational
For many years Brentwood High School has hosted a track and field invitational, but this year was different. On April 17th, the annual meet was given a new name: The Sophia Rivera Track Invitational, named after an alumna who continues to excel at the sport.
In honor of the newly named meet, Sophia Rivera returned to Brentwood to celebrate her achievement. "I love it, honestly, I've come back a few times after college," said Rivera. "But this is the first time I've been back after the school has been renovated," said Rivera. "Brentwood is such a family, I loved spending time and making good friends here."  The athlete who currently attends Mizzou graduated from Brentwood in 2016.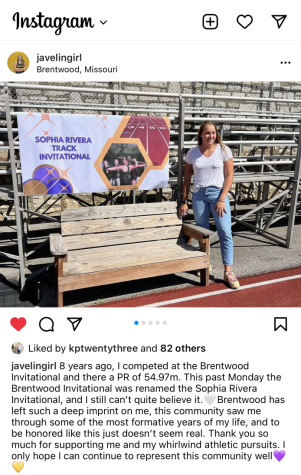 While at BHS, Rivera was one of the throwers on the track team; some events she competed in were javelin, shot put, and discus. She added, "The throwers went to every meet as a game, and we just had the most fun going to state."  
Coach Long, BHS's current head track and field coach, coached Rivera throughout her years at Brentwood.
"Her attitude has been to always work hard and do her best and she is very humble," said Long. "It was simple to coach Sophia, she has been throwing since 5th grade. She was already knowledgeable about what to do for training."
With her club track and field team, in 2015, Sophia won her first award as the Girl's Shot Put Champion in Missouri. After that, she proceeded to win the National Championship in the indoor shot put three times. She is a multi-state champion in multiple events including javelin and outdoor shot put. In 2015, she also placed 2nd in the 2015 World Youth Championships. 
Rivera is now 24 years old and is working on a masters degree at Mizzou but is still able to compete at the collegiate level because of losing a season to injury and then losing a season to COVID-19. "It's very different doing a sport in college," she said. "One thing I miss is being able to do multiple sports. The training is very intense but it's a cool opportunity, we just got back from California." For students interested in a college sport, Rivera advised, "Don't underestimate the power of rest, an injury can take you out faster than you can think. Make sure you enjoy what you are doing." To note, Rivera is currently ranked 83rd in the WORLD for the Women's Javelin Throw.

NEW NAME FOR A NEW LEGACY
Coach Long is the one responsible for renaming BHS's track meet to Sophia Rivera Invitational. "The best way to put it is, I'm wrapping things up for myself I wanted to do a few things to wrap up my time here," Long said, explaining how he is nearing retirement as a teacher and coach. "As far as that goes, Sophia Rivera has a legacy here," he continued. "When you see other people's names after a track meet, it's pretty cool and important. She's still a young adult herself."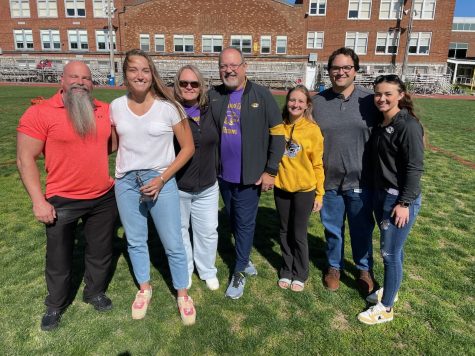 Coach Long still follows up on Rivera's college career, and the two collaborate with each other. At April 17th's meet, they had a chance to catch up and celebrate her most recent achievements. In fact, Rivera is hoping to compete at the 2024 Olympic Games under the flag of Puerto Rico. 
Congratulations to Sophia Rivera on earning her namesake track meet and inspiring us all.
Leave a Comment
What to know before you go to BHS's home track meet today
According to NBCOlympics, Ancient Greece was the first to race track and field; their reason was to show off their athletic abilities. After thousands of years, kids still have the same mindset – from racing each other at recess in elementary school to running in official races at high school. 
Never been to a track meet? You're in luck, Brentwood is hosting its annual invitational today after school today. The meet has just recently been renamed after Sophia Rivera, a nationally-ranked javelin thrower for Mizzou who graduated from BHS in 2019. 
WHAT TO EXPECT AT A BHS TRACK MEET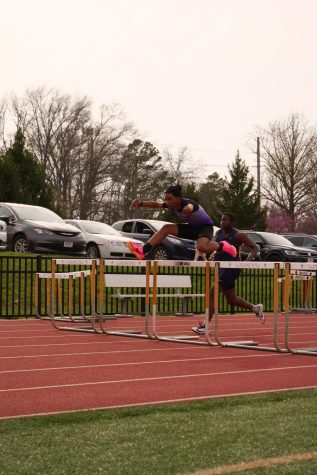 When thinking about track and field, most people forget about the field part. This includes: the long jump, high jump, shot put, discus, pole vault, and javelin. The first two are self-explanatory, the long jump is how far you can jump before hitting the pit, and the high jump is jumping over a horizontal crossbar. Another event that falls in the 'field' category is the pole vault. It's almost exactly the same as the high jump, except the crossbar is way higher, and instead of jumping, you use a pole as leverage to go over the crossbar. The last three events are about how high or far you can go, but the next three are about how far you can throw. Starting with the shot put, the put looks like a little cannonball, and your arm is the cannon. Next is the discus. To best describe this weapon of destruction, simply think of it as a weighted frisbee. Lastly, the most well-known, since it can be seen in many movies, there's the javelin, which is a light spear that is sharp on both sides, which makes it very aerodynamic. Although there are six field events, BHS does not compete or host the javelin or pole vault. Don't ask me why; ask Coach Long: "We don't have enough space."
On the track side of events, there are sprints, distance, hurdles, and relays. The sprinting events are the 100m, 200m, and 400m. The distance events are the 800m, 1600m, and 3200 meter runs. In hurdling, it's either 100m or 400m; lastly, there are relays where you have a baton and pass it onto the next person, and the two distances are 100m x 4 and 200m x4.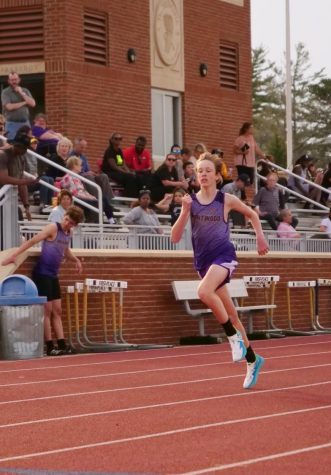 BRENTWOOD'S 2023 TEAM
This year the track and field team has 21 athletes and their seasons has been off to a good start. As far as who might be state bound, we have some predictions. Last year the 4×100 meter relay made it to state. The team consisted of Arris Harris, Jesse Lane, Nick Phillips, and John Clay. This year the 4×1 team will involve the same people as last year since none of them were seniors and all returned to the team. Junior Arris Harris feels that the 4x1 team has a good chance of making it again. "And who knows," he added, "I might make it to state on my own even with my ankle." Harris had ankle surgery after an injury during his fall football season but has been working hard to recover.
As for other events, last year junior Adrian Sabeh qualified for state in the discus, but he is unable to compete this year after having back surgery. Last year's team also had Katelyn Kimmel and Mya Lucas qualify for state in the triple jump, but those athletes graduated last year.
As for Coach Long's predictions, he said, "Its too early to tell but I hope everyone makes it."
Come out today to cheer on the Eagles as they hopefully race to victory. Also, Sophia Rivera will be at the meet, so if you've always wanted to meet a nationally-ranked college athlete, today is your day!
Leave a Comment