How my houseplant inspired me to shave my head
Bzzzzzzz, bzzzzzzzz, bzzzzzzzzzzz. The sound of the clippers was all I could focus on as I stood in my bathroom shaking with excitement. My mother was snapping pictures like her life depended on it, and my father, proud of his child's courage, was happy to get to help me in my journey. I closed my eyes as tight as possible because I only wanted to look when the job was finished. After an itchy 20 minutes, I finally turned to the mirror for the unveiling. 
My jaw dropped, I had finally shaved my head.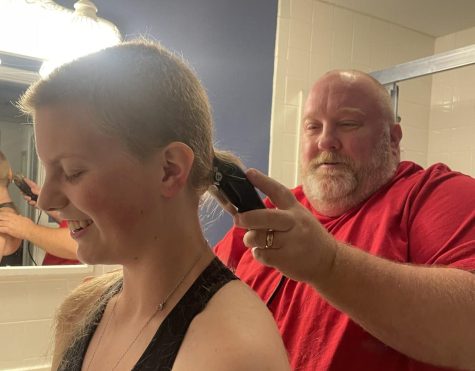 Now I know what you're all thinking; no, I didn't have a Britney Spears moment and mentally snap. And I didn't shave my head because I couldn't figure out how to style my hair for prom. I wasn't so upset at our soccer team's recent loss that I decided to take it out on my hair. I didn't even shave my head because I wanted to look like Millie Bobby Brown or Natalie Portman.
It was for none of these reasons. But in order to fully explain why I shaved my head, I must first give you a brief lesson in bonsai care.
Plants have always captivated me, and after a year of caring for my bonsai tree (named Jackie Grownasis by the way), I learned that a crucial element of caring for bonsai trees is pruning them. When you notice a weak area in your tree, the most efficient way to help the plant is to prune the tree. You cut off small branches and leaves, and then wait to see how the tree will regrow. After a bit of patience, you'll notice that the tree has focused its energy on the pruned area, making it regrow stronger and with bigger and more vibrant leaves.
But what does that have to do with me and my hair? I'm at a point in my life where I find myself reflecting more and more. I am about to move to college and start an entirely new chapter, and quite honestly, it's gotten me a little sentimental. Realizing that the next phase of my life is coming up so fast is making me excited for all of the growth that is to come, which is part of why I shaved my head.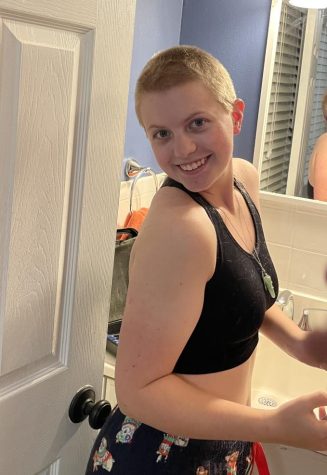 Shaving my head was my way of pruning myself since it would be rather unwise to cut my arms off. Getting rid of my hair was my way of focusing my energy on myself and my growth.
But another part of why I shaved my head is to appreciate and respect all the growth I've already experienced. 
Over the past few years, I've become more confident in myself, being able to stand up for my beliefs and discover my voice. I've been exploring my identities more, being able to let my true colors shine in all that I do. And I've become a more independent person all around, traveling across the globe alone and being comfortable in my mind and my space. 
I've always appreciated my long blonde hair but have never had a very emotional connection to it. For most of my life, I wore my hair how other people wanted; how I felt would let me blend in the most. Speaking from experience, a messy bun certainly draws less attention than a buzz cut. 
And when I finally decided it was time for the big shave, a lot of people felt passionate about my decision. Some thought I'd look sickly, some insisted that I would miss my long locks, and they urged me to proceed with caution "in case it turned out ugly."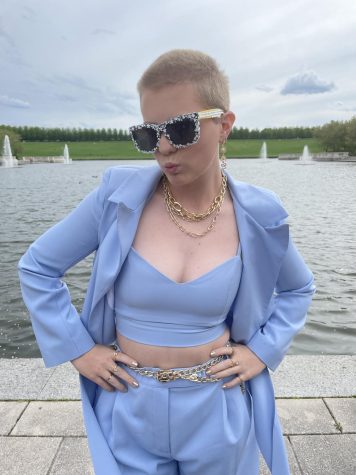 Yet, my decision was not one I could be swayed on. I knew if I was going to do this, it needed to be only for myself. Cutting off my hair was liberating, it was empowering, and it was selfish in the best possible way. 
And now that I've shaved my head, I'm in this exciting waiting period. 
You know the way springtime makes people excited for summer? The feeling of a huge blossom just waiting to happen? The anticipation of something bold, something so close? That is me, and that is what pruning my hair has represented, connecting me to the changes and growth in the natural world.
My buzzed head represents potential and connection. It makes me feel confident in my choices and strong enough to stand by them. But it also helps me look to the future because I know that, as time passes, my hair will grow with me. I feel connected to my spirit, my opinions, and, in some strange way, the universe. 
"
At this point, with a buzzed head and eager heart, I will wait for more change with humility and enthusiasm. As my hair grows and I look at the progress happening on my head, I'll reflect on who I was, who I am, and who I want to be. "
Unlike bonsai trees, there is no way to be sure that my energy will focus itself in one place, but I feel confident that however I grow will be exactly what I need. And every time I run my hand over my fuzzy head, I feel pride and elation for the life I am living. I feel connection and excitement; I feel fulfilled.
Would you ever shave your head?
Sorry, there was an error loading this poll.