Staff Spotlight: Kamille Jefferson
Cole Krener, Staff Reporter and Video Editor
May 23, 2023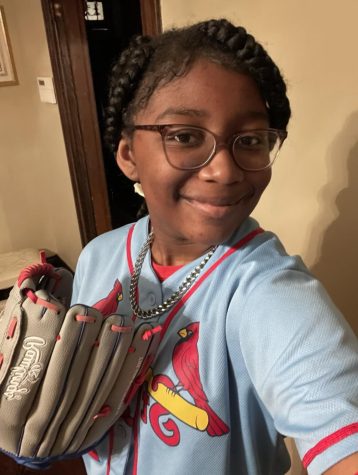 Kamille Jefferson is a freshman who has been attending Brentwood schools since kindergarten. In fact, she has lived in Brentwood her whole life and feels that it's a very nice environment and she has had a very good experience here.  She is a big fan of sports and also loves drawing, especially when it comes to creating her own characters. 
Like any sports fan who lives in St. Louis, Kamille is a huge fan of the St. Louis Cardinals. She states that simply watching the Cardinals play makes her feel safe because she can just be herself. She is also a big fan of the Toronto Blue Jays, as she just likes watching videos on those specific teams to get to know the players as people and to watch their routines, and of course she loves watching the baseball games themselves. She claims that watching the games is a roller coaster of emotions but at the end of the day it doesn't matter if the teams win or lose. 
For The Nest, Kamille mainly writes articles about sports but has enjoyed going outside of her comfort zone to experiment with different writing styles. She also occasionally does photography as well. Kamille will be on staff next year, too, so you can catch more of her articles then!