Although this is Mr. Davinroy's second year teaching inside of Brentwood High School,  this is his 21st year teaching with the Brentwood School District and his 26th year as a teacher.  Before coming to Brentwood, Mr. Davinroy taught in Belleville, Illinois, in a safe schools program, and then went over to Granite City to teach alternative education.
You might be wondering how Mr. Davinroy has been teaching 21 years in the district but only two in the high school. That's because Mr. Davinroy has never actually taught any classes inside the Brentwood building until last year. Mr. Davinroy is an academic interventionist, meaning he specializes in credit recovery and alternative education. He's also a part of a program called "Missouri Option" that allows students to take GED-styled tests, and if those tests are passed, they can be eligible for a high school diploma.
 Mr. Davinroy has always been with alternative education programs for his entire teaching career. When asked what made him want to teach alternative education in particular, he said, "I just fell into it after I graduated. My dad was a carpenter, so I worked with him for a while, so I was a little detached from graduating with an education degree, and I was still looking for a job. I just so happened to see a job open in alternative education. I applied for it, and I worked there for five years."
Mr. Davinroy really likes working in the Brentwood building but is still getting used to actually being in the school since before he was teaching at an office park that was never actually in the building — he claims it's been a very strange experience to actually work here now.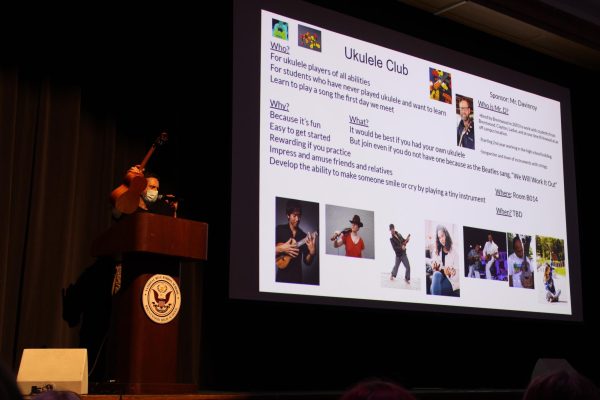 In addition to working as an academic interventionist, Mr. Davinroy is also a music enthusiast. This year he is starting the all-new Ukelele club. Mr. Davinroy has been on and off playing the ukulele for only a couple of years, but he's been a guitar player for around 30 years. Mr. Davinroy claims the ukulele is similar enough to a guitar, so it was easy to make the transition between the two instruments. When asked why he wanted to start the Ukelele club, he said, "Well, as it's only my second year in the high school, it made me think that I should get involved more and get to know students. That's kind of the main reason why I started the Ukulele club. I was thinking about starting a Frisbee golf club but that was going to be a little more work." 
Senior Denise Tacus, who had Mr. Davinroy as a teacher last year after moving here from the Philippines, described Mr. Davinroy as: "A fine teacher who has a drawer full of snacks, so we can get some snacks and eat while doing our schoolwork. He's hands-on with work, he will talk about it and he will ask you if you wanted to ask questions or if you wanted him to help you with doing assignments." 
It may only be Mr. Davinroy's second year in the building, but he already seems to be very well-liked among his students while also setting up a positive environment for them.