Music Review: Olivia Rodrigo's SOUR (by someone actually her age)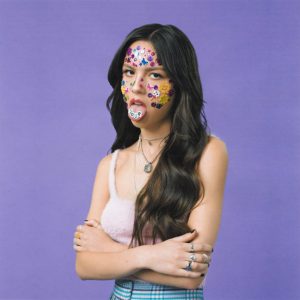 In January of this year, Olivia Rodrigo's first solo release, "Drivers License," blew up on social media worldwide. This sensational hit became a TikTok trend and brought to light the Disney love triangle between Rodrigo, her costar Joshua Bassett, and his new girlfriend Sabrina Carpenter. Before all of this, not many people knew of Olivia Rodrigo or her work. But a few months later, everyone knew her name and all the words to her songs.
This past Thursday, Rodrigo dropped her debut album Sour, and you can't go anywhere on the internet without hearing the world's raving reviews of her new record.
But what about a take on the album from the viewpoint of someone actually her age? Well, here's mine.

Brutal: This is a fantastic opener for Rodrigo's debut album. She starts off with a big "screw you" to the people who exploited her as a young Disney star. It also shows us that she is taking control of her life from here on out. This punk-rock-inspired track is full of chaotic electric guitar and Olivia's screams of independence. Sour's opening track indicates what the rest of the album has in store — an explosion of emotion that she held in for so long. 
Traitor: An immediate change of pace from the album's opening track, "traitor" feels like a continuation of Olivia's hit song "drivers license." Rodrigo sings about betrayal in this slow ballad full of universally relatable lyrics like, "Guess you didn't cheat, but you're still a traitor." 
Drivers License: Just about every teen in the world has heard this anthem of teen heartbreak, but the impact goes even further when paired up with its predecessor, "traitor." These songs together draw a better picture for the audience to show what Olivia is going through after her world-famous breakup. 
1 step forward, 3 steps back: This slow yet bouncy song almost reminds me of a lullaby. Rodrigo takes inspiration from Taylor Swift by interpolating the piano melody from Swift's "New Years Day." She sings about confusion in a relationship over a piano crescendo that builds anticipation throughout the entire song. This build-up leads the listener into another hit single, "deja vu."
Deja Vu: The second single of Sour uses a similar crescendo technique that leads the listener from slow verses into the loud swelling guitar and upbeat chorus. This track finds Olivia moving on from her stage of heartbreak and confusion into a phase of anger and passion. 
Good 4 U: With Rodrigo's next song, we finally get to hear more of the pop-punk-inspired vocals teased in the album's opening track. This addicting melody full of drums, guitar, and loud vocals is inspired by early 2000's pop-punk and is comparable to artists like Paramore and Avril Lavigne. This song shows the transition from pain to anger in the grieving of Olivia's past relationship. 
Enough For You: This song is absolutely heartbreaking. Olivia Rodrigo shows us time and time again that she can write the perfect sad song. She tells the story of her toxic relationship over a light finger plucked acoustic guitar. The combination of this guitar and Olivia's upset lyrics makes the listener feel her pain.
Happier: Being one of the saddest songs on the album, this ironically named tune is a masterpiece. It reminds me of Joji's "SLOW DANCING IN THE DARK," in how the verses and piano build up to the song's peak after the chorus. This track was beautifully produced by Dan Nigro, who brought an incredible sound to help increase the impact of Olivia's gut-wrenching lyrics. 
Jealousy, Jealousy: This song is written perfectly for teenagers going through issues with their self-esteem. Angrily, Rodrigo sings about how she's sick of herself over an upbeat, bouncy melody of bass and drums. "Jealousy, jealousy" is a powerful reminder to young people around the world that they are not alone and that even stars like Olivia Rodrigo feel insecure, too. 
Favorite Crime: Olivia creates a fantastic metaphor in "favorite crime" by telling the story of she and her partner in crime, her ex-boyfriend. She sings about how she was an accomplice to all the bad things he did during their relationship and finally came to terms with the fact that she was just as guilty of the "crimes" as he. This song is a turning point in Sour where Olivia finally comes to terms with things and begins to move on.
Hope Ur Ok: Sour's closing track, "hope ur ok," is a wonderful ode to growing up. Olivia sings about the people who are no longer in her life and how she hopes that, wherever they are, they're doing okay. This song sheds light on the rapid change in a young person's life as they get older. It brings the listener nostalgic feelings as they remember all the people they no longer stay in touch with. Rodrigo does a beautiful job of closing out her debut album with a deep and meaningful song to stick with its audience.
And there you have it — another glowing review to add to the rest; but seriously, if you haven't already, check out this album!