The Nest News: Lights, camera, fashion! An inside look at Brentwood's 2022 Prom
This year's prom felt like a breath of fresh air; people were dancing and we could actually see each other's full faces. As you all know, because of the pandemic, at last year's prom we had to keep social distance, which made dancing … impossible.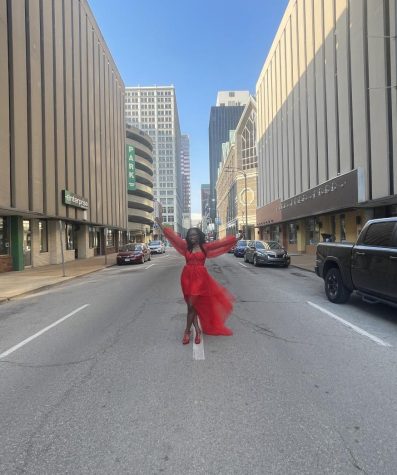 While this year's prom restrictions were light, the fashion was definitely not. As high school students, we rarely get to dress up. So when we get the opportunity, it's quite memorable.
Two of my favorite 2022 prom looks were by seniors Quynh Vo and Mya Lucas. For their last high school prom, they certainly went all out. Vo showed up her peers in an unconventional suit. She broke down gender barriers while putting her own feminine twist on the average suit. "I think I was going for something different to top last year's prom outfit," Vo said. Last year, her prom look was a long white and gold dress, which gave a very strong Greek goddess vibe. The best part of Vo's ensemble this year was she made it herself! "With the help of my aunt, of course. we got together and sewed me a little blazer and pants," Vo explained. Vo's alluring outfit truly caught my eye – and what a good year to go big, Vo was also crowned as part of Prom Royalty along with Kya Hawthorne and Anthony Garrett. Mya Lucas's dress was also quite notable. She showed up in a poofy red dress that looked like something out of a fairy tale. "It's my senior year, and I wanted to go out with a bang, so I wore a dress that made me feel like a fairy princess," Lucas said. Another reason her striking dress caught my attention was because of its bright red hue. Lucas noted, "I usually don't wear colors, so wearing red was a big deal for me."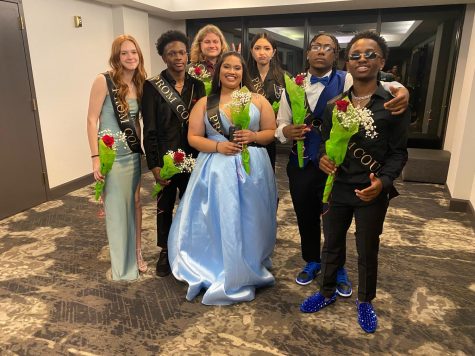 When it comes to my favorite junior looks, Kennadie Miller and Jamia Welch went above and beyond for prom this year. They wore matching yet contrasting dresses. Both dresses were mermaid-style, which means they are tight-fitted until knee-length, where the dress flares out, creating the mermaid tail illusion. Some similarities between Miller and Welch's dresses are the halter necklines and oval cutout on the chest. Their dresses were very similar but also had lots of differences. Welch's dress was black with silver designs, and in opposition, Miller's dress was red with gold designs. My favorite part of their dresses is the individuality of it all. They bought matching dresses, which symbolize their friendship, but their dresses also have differences to match their unique personalities.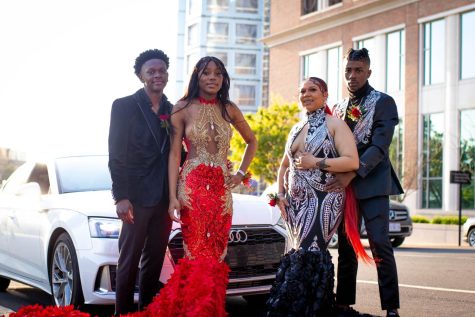 If you thought prom 2022's fashion was good, just wait until you see the nails. Quite a few people had nails that matched their dresses. Jazzy Herrera sported bronze tipped, short, and square nails to match her stunning slim-fit bronze dress. Brianna Harris showed up in green bedazzled nails to match her shiny green dress. Annsleigh Alexander had short blue nails with stripes of three different shades to match her sparkly blue dress. Charlotte Kaiser went a different route and got nails that complemented her dress instead of matching it. She had pink and white coffin-shaped nails that stood out perfectly with her glamorous white dress. "The lady who does them is Nona. She took about two hours to finish them, and they were about $100," Kaiser said.
In conclusion, in my humble opinion, Prom 2022 was a success! Everyone looked stunning in their outfits and after three years of being in a very isolating pandemic, it was refreshing to see things mostly back to normal.
View Comments (1)
About the Contributors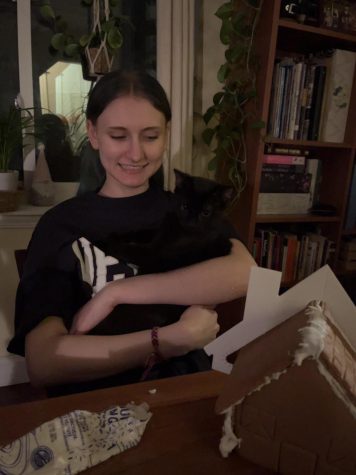 Lilly Lancaster, Staff Reporter
Lilly Lancaster is a senior at Brentwood High School. She loves to read, write, and hang out with her cats, Binx, Stink, and Reba. She is involved in FCC,...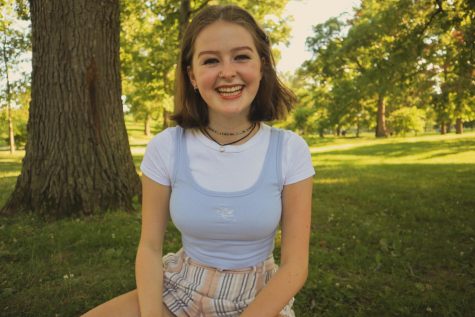 Justine Favazza, Staff Reporter
Justine Favazza is a senior at Brentwood High School. She's on Student Council and the varsity cheerleading team. She has a love for video production,...