History of Prom: How it Came to Be
As springtime rolled around this year, thousands of students were getting ready to attend one of the biggest nights of their high school careers. Prom has been a staple of American high schools since the 19th century. Short for "promenade," prom started as an event for college students, and it was meant to be like a ball. It taught women etiquette and manners, and they were expected to wear the nicest of dresses. Later, in the 1920s, the formal dance was introduced to high schools. 
The events were horribly segregated, and people of color weren't allowed to attend, along with same-sex couples. However, in the 1950s, segregation was no longer allowed in schools, and prom became more trendy than ever. Schools stopped holding the formal dance in their building's gymnasium and transferred to nicer, larger venues. The dance was becoming even more of an extravagant event. 
"For my senior prom," Brentwood chemistry teacher Mrs. Musterman explained, "we went to a hotel, and went to the top floor in an old metal elevator." Because they were all required to ride a bus to prom, they all got there at the same time, which made the process of getting to the top floor take forever.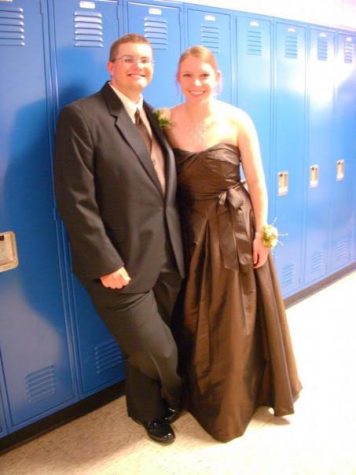 Rules and venues were not the only things to change throughout the prom timeline. One of the most significant parts of prom is fashion. Senior Madison Lawrence says that her favorite style of prom dresses were the glitz and glam outfits worn in the 1920s. In the '40s and '50s long-sleeved, floor-length gowns were the look as well as poofy tulle skirts paired with long gloves. Pastel colors and simple dresses were mainstream in the '60s.The length of dresses varied from very long gowns to short, above the knee tea dresses, until the 70's when the trend was long flowy ensembles.
In the '80s and '90s, dresses were covered in colorful ruffles or shiny metallic materials, and it became fashionable to match colors with your prom date. French teacher Madame Hood admits that she didn't go to prom, but if she were to, she probably would have worn something like Michelle Obama did in 1982, as that's when she graduated.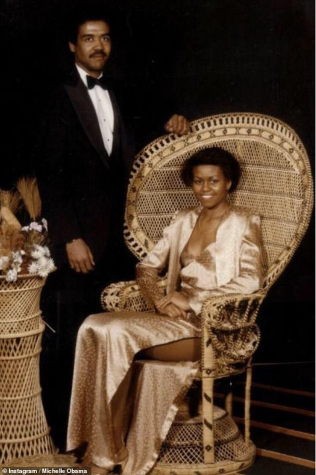 Beginning in the 2000s, minimalist, satin dresses were in demand. "The dresses were almost entirely floor length and shiny satin!" described Musterman. She says "The best dressed" prom-goers' outfits fit that description, while being in camouflage.  And finally, in the 2010s, bright, colorful beaded dresses are some of the most popular prom outfits seen today. Former Brentwood student Abigail Kimmel had this style: "My dress was black, but had a ton of beaded designs."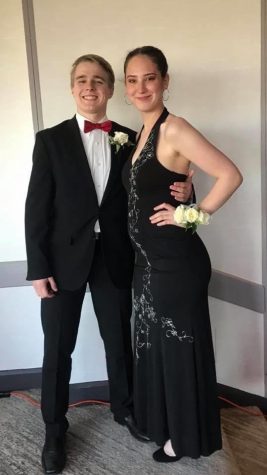 These different ways to celebrate prom and many different styles of outfits are what led to this formal dance being what it is today. Although Brentwood High School will not be having prom this month due to the pandemic, students still have some hope. "If it's possible to have a prom at a later date I would definitely be on board with that. Senior prom is something that a lot of us were looking forward to and it would be really fun to get to have our last prom!" Lawrence says with optimism. With the extra time before the event, take the history that spans decades and go find an outfit and date!