Blood is thicker than … rivalries?
I am 14 months younger than my sister, Amelia. I have lived every day of my life following closely behind her. From learning to tie our shoes to getting our first jobs to going on college tours, we have gone through all the big milestones alongside each other. We even got involved in many of the same high school clubs for two years before she graduated in 2021.
You'd think that with us being so close in age, we would have a warm kinship. Well, you'd be wrong. My sister and I love each other to death, but we also tend to compete a lot. We often find ourselves cracking jokes about which sister gets to be "The Smart One" or "The Athletic One." 
And although I'd like to think neither of us is "the dumb one" or the "un-athletic one," we still fight for that first-place slot, making us a perfect example of a sibling rivalry. And don't even get me started on the "who is the favorite child" competition because Amelia will play that card at any chance she gets.
"I don't care about Eloise's dumb competitions because we all know who the favorite is anyway," remarked Amelia, only proving my point further.
While my sister tries to deny our feud, to me, it certainly is a real and long-standing rivalry. But because I am a reporter who knows I need evidence to support my claims, I went to my younger brother Nathaniel, a sophomore, so he could corroborate the feud. 
"I don't care what Eloise and Amelia do. We're all our own people…The fighting just is stressful and dumb," said my wise brother, proving my point that the feud does exist.
Despite Nathaniel and I making it clear that this feud is true and strong,  Amelia continues to deny it, which begs the question: are oldest siblings immune to the dreaded pressures of sibling rivalries? Are Nathaniel and I able to see the effects of the rivalries just because we're younger? Or is Amelia just fanning the flames?
Peter Toohey, a writer for The Atlantic, seems to think so. In his article "Sibling Rivalry, a History," he argues that younger siblings tend to hold grudges against their older siblings and will often lash out due to the immense pressure they face. While older siblings may realize they're in competition with the younger ones, it tends to concern them much less, causing them to be much less affected by the pressures caused by the rivalries.
With Toohey's findings in mind, I set out to see how other Brentwood students' felt about their own sibling rivalry dynamic.
Sisters Jamia and Asia Welch have a three-year age difference, Jamia being a senior and Asia a freshman. Despite the age difference, the two have some classes together this year. While they consider themselves pretty close, they admit that they are also impacted by the dreaded sibling rivalries.
"I sometimes feel like I need to live up to the standards that Jamia sets with school and even sports," said Asia as she explained how she personally feels more affected by their petty competition than her older sister. The sisters both agreed that they do compete with each other but that they view it in a motivational sense. They use their competitiveness to drive each other forward and to improve themselves.
"
With Asia, I try to realize we are just family and we can live together, sometimes without fighting and that's better than competing all the time.
— Jamia Welch
While sibling rivalries obviously center around siblings, many experts have questioned whether it's really a parental issue. In Dr. Gail Gross's HuffPost article "When Parents Foster Sibling Rivalries," she explains the connections between parents and sibling rivalries. She writes, "As a parent, you may be inadvertently fostering rivalry between your children; as a child, you may unwittingly be the pawn in your mother's or father's attempts at splitting and/or manipulating." 
In the article, Gross highlights how unintentional yet impactful comments like "Why can't you be as nice as your sister?" or "Your brother got A's, why can't you?" can be. When parents compare their children to one another, they can pit them against each other, whether consciously or not. 
While some experts believe that parents impact their children's sibling rivalries, they may be too distanced from this issue to properly tell. Armed with the research, I asked Brentwood siblings to reflect on Gross' findings.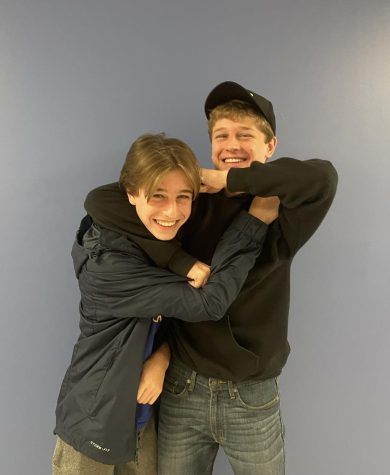 Both of the Kelley brothers, senior Josh and sophomore Lucas, agreed that their parents don't really affect their relationship or their competitive drive. Josh is older than Lucas by three years, and they both have the competitive fire in them. They compete with each other in many aspects, including academics and within their shared soccer team. However, neither of the brothers links their rivalries to their parents.
"It's really just sibling competition, not our parents comparing us or anything," noted Lucas.
"It's (the rivalries) in ourselves," Josh added. "Our parents don't really influence us that way."
While the Kelley brothers both agreed that they don't feel that their parents compare them to one another or pit them against each other, not all Brentwood siblings felt that way. Siblings Brianna and Arris Harris have just an 11-month age gap between them and are very close to each other. Despite their closeness, though, they both agreed that they compete and try to outperform each other in many aspects. However, in the Harris' case, these feuds are fueled by the Harris parents.
"They (their parents) think we have the same opportunities and everything, so they expect us to be the same," noted Arris, a junior and the younger of the two.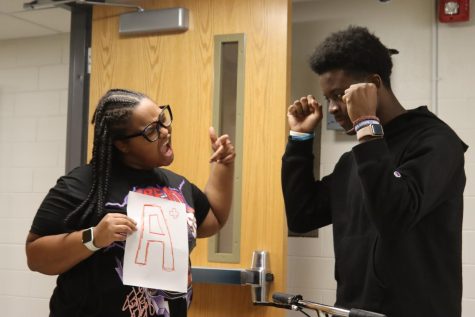 "
Oh, the pressure from them (the parents) is like 1000%. We're different years in school, but they still wanna compare us," Brianna said, echoing Arris' opinion. "Arris has always had the advantage because he's younger, so when they compare us, it's not fair because he's in an easier year than me. I hate when they do that.
Undeniably, sibling rivalries exist. But not necessarily always. Although competition is natural and maybe even inevitable, some siblings find themselves uninterested in competing with each other. Brothers Andrew and Nick Moran fall into that category. 
Andrew and Nick have been together since day one, literally. They are twins with a four-minute age difference. This closeness in age certainly shows in their relationship, as well. They both play soccer, run cross country, participate in Scholar Bowl, and take various classes together, all while getting along beautifully.
When asked about their sibling rivalry, both agreed that they simply don't have one. They define their relationship with each other as more motivational than competitive.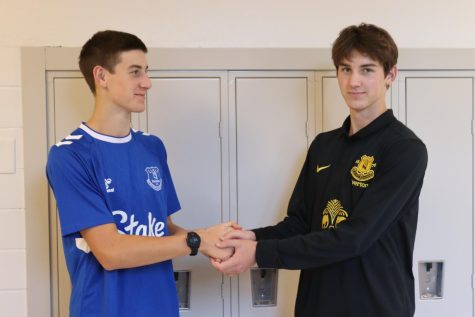 To illustrate their point, Andrew brought up  their cross-country races. "One time in a race, Nick passed me, and, as he was running by, he said, 'Andrew, go faster,' and that made me speed up because I wanted to do better with him." 
To note, Andrew said he wanted to do better "with" Nick, showing just how much the twins truly want to support each other in their attempts to better themselves. Their claims of a rivalry-free relationship seem to be true with the way they simply don't see each other as the enemy.
Nick agreed when he said, "We support each other and always want to be on the same team, never against each other."
So whether fighting or motivating, bickering or hugging, siblings share unbreakable bonds that will last a lifetime. 
My sister summed it up perfectly when she said, "Despite Eloise always stealing my clothes and then acting like they're the one with better style, they really are my built-in best friend."
Leave a Comment
About the Contributor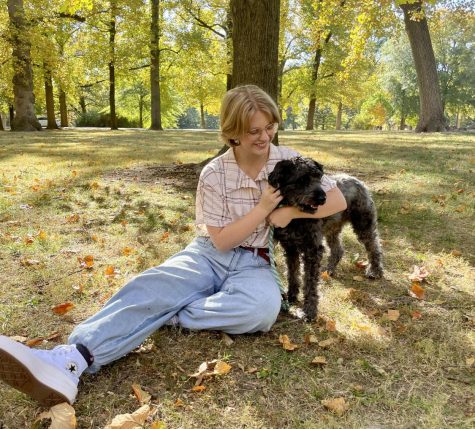 Eloise Ayotte, Editor in Chief
Eloise Ayotte is a senior at Brentwood High School. They are the Editor in Chief of The Nest, and it is their third year on the journalism staff. They...