Meet Mrs. Lewis!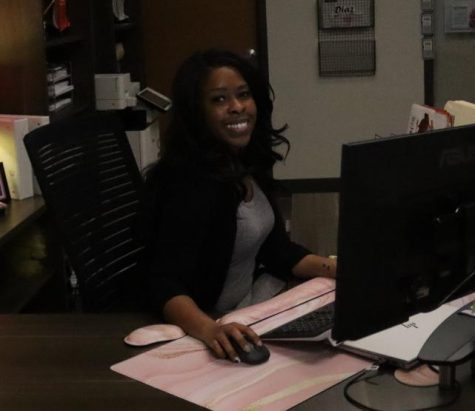 Mrs. Trista Lewis is one of the new staff members at Brentwood High School. She serves as the school's registrar and the attendance secretary.
Mrs. Lewis  is from St. Louis, and graduated from Marquette High School. Before she became our school's registrar and attendance secretary, she was the office administrator at the Brain Injury Association of Missouri where she did a lot of office work in graphic design and social media for the organization. Some of the previous schools she's attended are UMSL where she took classes in the  Honors College periodically, and before that she did her general studies at St. Louis Community College.
Mrs. Lewis wanted to come to Brentwood because after she applied for the job she liked the staff and the idea of a small school and a more tight-knit faculty and staff. Mrs. Lewis hadn't even considered this type of job but she kind of  stumbled upon the job listed and saw it as a great opportunity to take a career change. Mrs Lewis is no stranger to change – she was actually in the Army when she was younger and lived in South Korea for a year along with some other parts of America. Mrs. Lewis also spent some years being a stay-at-home to her two kids.  There are a couple of things she likes about her job the most – her coworkers and  the students. When Mrs. Lewis is not at work, she is hanging out with her kids and her fiance or playing video games.