Tonight Brentwood Theatre debuts "The Rainstorm," a student written, directed and produced play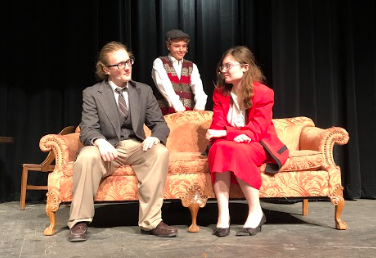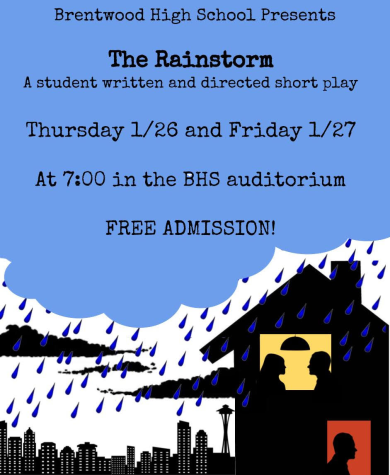 The Brentwood theatre department has showcased hit after hit these past few years, from mature period pieces to family-friendly shows and musicals. This success is undoubtedly due to the cast and crew's dedication to each production and the guidance of troupe sponsor, show director, and theatre teacher, Erin Carmody. With these successes, the theatre department continues to grow and evolve. The latest new development is Brentwood's first ever student written, directed and produced play "The Rainstorm" which debuts tonight.
The student behind it all? Senior Nola Buehler.
Buehler has been working on writing "The Rainstorm" since her sophomore year, and throughout the 2-year journey from concept to script to stage, the play has changed and evolved in unexpected ways. As divulged by Buehler, "Originally, I was writing a screenplay for it, but Ms. Carmody gave me the option to do my play."
Even though Buehler was very excited at the prospect of getting to stage the script, making it ready for the stage posed some challenges. "For film, it's really just different because you don't even have to have the dialogue be said by the actors; it can be a voiceover," explained Buehler. "But for a play, you really have to choose what dialogue is important and how you can portray that in a way that makes sense for the audience."
"The Rainstorm" follows the marital struggles of Loyd, played by sophomore Nathaniel Ayotte, and Hope, played by junior Sophia Lee, as they attempt to find some sense of happiness and meaning within their world and their marriage. The story is narrated by sophomore Willow Wagner.
Buehler describes the couple's history, explaining, "Loyd is a car salesman living with Hope, who's a lawyer. They've moved around to several cities, but they haven't -or I guess Loyd hasn't really- found a job he's liked. So they keep moving around to see what he could be successful at."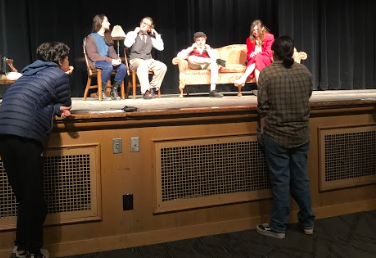 In addition to being written and directed by a student, another aspect that differentiates "The Rainstorm" from other Brentwood productions is that it's intended to be a more gritty and realistic take on modern life. While past Brentwood shows have aimed to pull at heartstrings, this one is especially pointed when it comes to sympathizing and empathizing with the characters on stage. As Buehler puts it, "The most important part of the story is just for the audience to be connected to the characters -and it's important to know that there's no villain in this story. When you watch it, you have to put yourself in the mindset of each of these characters and try not to make them seem more negative than they are, even if they say something negative. They're human beings just like us. It's just a reminder for everyone to think about how we can better treat each other."
"The Rainstorm" debuts tonight, January 26th at 7 p.m in the Brentwood auditorium.
Can't make it tonight? The show is on tomorrow night, too, also at 7 p.m. It features a cast and crew consisting entirely of Brentwood students, and admission is free, so make sure to stop by and check out the show!