The Nest News Prom Coverage: BHS prom-goers turn heads with stunning outfits
Will Schuering, Walter Torres, Emelda Forney, Kevin Ou, and Cole Krener
It's easy to tell when prom season is in full swing – just head to any park on a Friday or Saturday night and you're bound to see swarms of high schoolers decked out in their finest clothes, looking like they're ready to hit the red carpet. Friday, April 21st was no exception, as Forest Park was flooded with prom-goers from Brentwood and beyond, all eager to capture the moments leading up to the big event. There were some truly stunning outfits on display, making for an unforgettable evening. Let's take a look at some fantastic looks from Brentwood.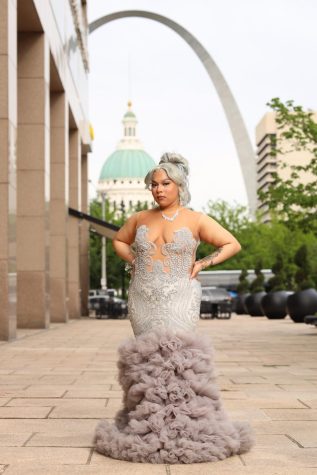 The prom queen and king, Jamia Welch and Kevon Stanciel, set the bar high with their stunning looks. Jamia opted for a mermaid-style dress with a grey and white color scheme. The top of her dress featured snug-fitting silver embellishments, flowing down into a breathtaking waterfall of tulle that gave the dress a touch of drama. Her silver jewelry and silver hair added the perfect finishing touches to pull it all together. Jamia's updo showcased a stylish bun with plenty of face-framing pieces.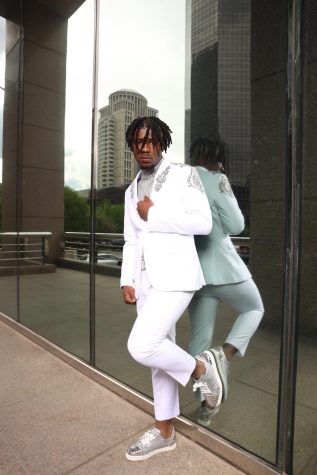 Her boyfriend, senior Kevon Stanciel, didn't disappoint with his matching attire. He decided to wear a white blazer with dress pants and a grey turtleneck, accented with subtle silver embellishments that paid homage to Jamia's dress. His silver chain necklace and decked-out silver sneakers completed the look. The coordinated outfits were a standout, and this duo easily landed a top spot on my list of best-dressed prom attendees.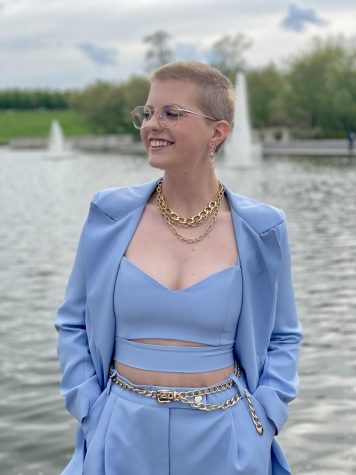 Eloise Ayotte made a statement at prom this year with her stunning powder blue suit set. Breaking free from traditional norms, she chose to wear dress pants with a cropped top and blazer. To add some flair, she and her friend Jazzy Hererra bedazzled fun sunglasses for pictures before. When asked about her inspiration for the look, Eloise replied, "I knew I wanted to go for a more androgynous look with a suit, but I didn't want to play it safe." Her solution? Ordering a custom, hand-made suit set from Poland that she found on Etsy. And the extra-ness definitely paid off, creating a striking image. Eloise added chunky gold accessories to complete the outfit, saying, "I wanted something masculine and powerful, so I chose snakes and chains!" Her unique ensemble was a true showstopper.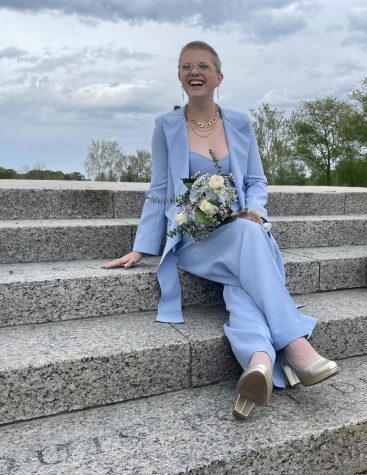 Last but not least, newcomer to Brentwood Denise Tacus made a grand entrance at prom with her stunning one-shoulder gold dress, adorned with sparkling silver fishnets and paired with strappy silver high heels. A large feather-lined slit added a touch of glamour to her ensemble, perfectly in line with this year's popular trend. "I bought [the dress] and tried it on the day before," laughs Denise. "The other choices were too plain and this one was the first one I saw." Her stunning look was all done by her, including the makeup and hair. I loved the whole aesthetic of this look, and she looks absolutely divine.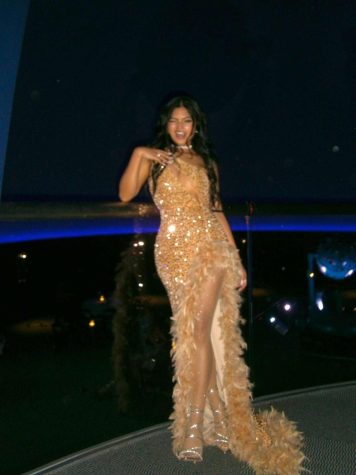 And these were just the tip of the iceberg. There was so much amazing fashion this year, so take a look at the gallery to see what everyone else was wearing!