Brentwood's top things to do this summer!
I'm sure you know that most students spend the whole school year yearning for summer to arrive. During this time, a lot of them start creating lists of things they want to accomplish during those months of freedom — a summer bucket list of sorts.  Is that you? If not, don't fret, because right here today we're going to be diving into some of the best things you could choose to do this summer as according to your Brentwood classmates!
Waterpark / Pool Party:
When you think of summer, you think of going to the pool. The temp is hot and the sun is out meaning that it's the perfect time to grab your SPF-100 and hop in. Now there are several places around here where you could go ahead and do that, such as the Brentwood Swim Club which is notoriously known for being the school's main hangout spot during the summer. That being said, there's plenty of other places to swim such as Six Flags' Hurricane Harbor.
Six Flags / Amusement Park:
Speaking of Six Flags, it's another great place to spend your summer! The water park and the actual theme park itself are lots of fun, the combination of the rides and the classic amusement park games and food make it a worthy spot on this list. "My favorite ride is the Mr. Freeze, it goes backwards, it makes me nauseous but doesn't manage to break my neck like the Ninja does. It's great," said Elizabeth Gray, a casual Six Flags enthusiast.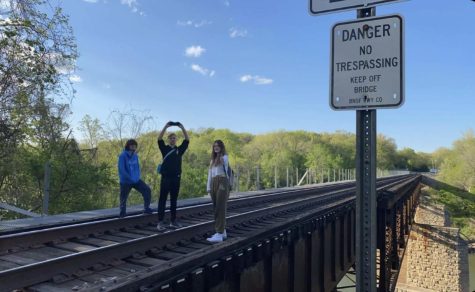 Hike / Nature Adventure:
One of the best aspects of summer is the amazing weather, and a great way to capitalize on that is to explore nature. Hikes and adventures through wilderness are a great way to have fun with friends and family in a variety of ways. You can hike, wade through a creek, climb trees, or just hang out and relax in a park. St. Louis has plenty of state parks and creeks, all of which are unique and worth exploring. Emelda Forney, a current junior, recommended hiking at Powder Valley in Kirkwood. "There's a shorter loop and a longer loop and it's really good if you want something to do. It's not rigorous and it's just a fun little hike to do in the summer when you have 30 minutes," she said. Additionally, Brentwood Bound is reopening the newly re-done Brentwood Park this summer.
Form a Band:
While this one might not sound appealing to everyone out there, it's certainly a unique experience nevertheless. Austin Eslinger, a current sophomore, plans to expand his music knowledge and experience this summer with help from now-graduated senior Nola Buehler. In his words, "Nola and I have both been writing music on our own for a while, and we are both into the same music genres, so we decided to start a band." This exact activity may not be for everyone, but it is a great way to have fun with your friends, and it might not be as difficult as it seems! Eslinger said, "It's easier to write songs with someone else because you can bounce ideas off of each other."
Travel:
An aspect of summer that more might relate to, however, is travel. Summer vacations are taken by many in the 3 months between school years. Vacations are usually fantastic and exotic experiences for students who spend the majority of their time in a 2 square mile town. Traveling is almost universally beloved. Miller Chantharasy, current junior, said, "I like traveling because it allows me to go somewhere I haven't been before and meet new people and have new experiences." Travel can take all sorts of forms as well, it doesn't require a high budget and exotic location. There are many ways to travel and explore, whether it be over land, air, or sea!