Summer Jobs: Who's making money?
With no schoolwork to attend to, most students find they suddenly have some extra time on their hands once summer hits. Some people hang out by the pool or play video games all day, but some people also take advantage of getting a job and making the big bucks. Surprisingly, Brentwood has a large group of students that do have jobs, some even continue them throughout the school year. Read about some students' and their summer jobs here.

The Brentwood Pool is a popular place people go to during the summer. Freshman Jordan Weir-Cundiff got her first job at the pool for this summer, outside of babysitting kids around the neighborhood. 
Jordan has been a member of the pool ever since she was little. She said, "I am most excited about working at the concessions stand. I think it will be really fun because you get to make food for people. I think it will also be fun to lifeguard though."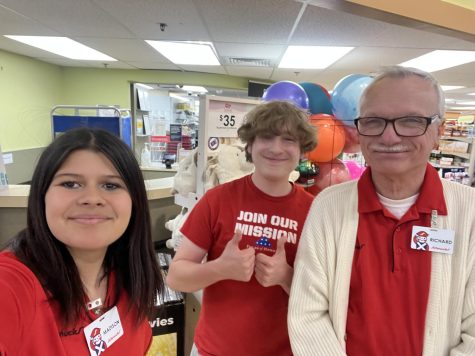 She is looking forward to working with her friends freshmen Kelsea Hansard and Max Burlage during her shifts. Another freshman, Ian O´Neal, also got his first job at the pool this summer. Similar to Jordan, he´s gone to the pool for a while and knows his friends are working there. He said, ¨I´m excited to hang out with people I know and make money that I can invest with.¨

Elizabeth Gray, a junior and staff writer at The Nest,  has had multiple experiences with different jobs and is now working at Main Event as an Arcade Technician. She said, "I stopped working at the first three jobs because of different scheduling or financial reasons.¨
Previously she worked at a mall's movie theatre, but it didn't work out for her as well as she thought it would. Next, she worked at Michaels, an arts and crafts store in Brentwood. There was a lot of conflict with scheduling and hours, so she left there as well. After that she started working at the Maplewood Boardwalk Waffles and Ice Cream. However, financial issues with the business caused a few 'scheduling issues'. 
Now at her now job, Elizabeth said she is excited about being there and working with the Arcade machines because it's a stark contrast to her past 'boring and dull' jobs. She will also be able to work in the laser tag arena, monitoring the game.
Sophia Lee, a BHS junior, has been working at Arby's for about a year now. She's quite content with her job and doesn't plan on leaving anytime soon. When asked about her experience during the construction, she claimed, "My experience is kind of unique, because last summer when I worked there, there was a lot of construction on the road, so Arby's was a very hard place to reach, so barely anybody could get there."
All in all, summer is a wonderful time to work. Not only does it give you helpful experience for your future career, but you also make a little bit of money on the side!