Last year, after both Brentwood High School and Clayton High School noticed a decrease in the number of football players (Brentwood was about to graduate a large group of players), the administration at both schools decided it would be best to enter into a "cooperative sponsorship," which basically means, we merged into one team. 
The combined team practices at Clayton's Gay Field and has had most of their home games there as well. Thankfully for Brentwood, Clayton is just a ten-minute drive away. So far, the team has played five games this season and won 2 of them. 
The hope of the merger was that both schools could retain a football program while being more cost-effective. Usually, the teams don't have enough for a complete junior varsity team, but now they have enough players. The combined teams give junior varsity a chance to get more personal practice and help them learn, rather than just getting thrown on varsity straight away or having to practice with a player on varsity. Another thing is that JV players can get more practice with the coaches. 
Coach Robin, a Brentwood Health & P.E. teacher and one of the head coaches for this new combined team, spoke on the team's experience during these new times. "The merger is going well," Robin said. "The players have bought into the idea of merging, so it doesn't feel like a merger at this point, just one team playing together."
The players also have their own opinions on merging. "Sometimes I miss a small team," said Brentwood senior Arris Harris. "But having more people is better for the new players to get more reps and different exposure to different capabilities of different people." 
Another huge positive is that if players are injured, coaches can switch them out and give them ample rest time rather than worrying about how they are going to field the next game. Last year, Brentwood faced a number of injuries, Harris included. Harris broke his ankle during last season's September 23rd game against Lift for Life, which resulted in him being out for the rest of the season. Now, with a bigger bench, the tem can weather injuries. This is big, due to Brentwood being a smaller school compared to a lot of the schools we face. The merger has also packed the stands and brought t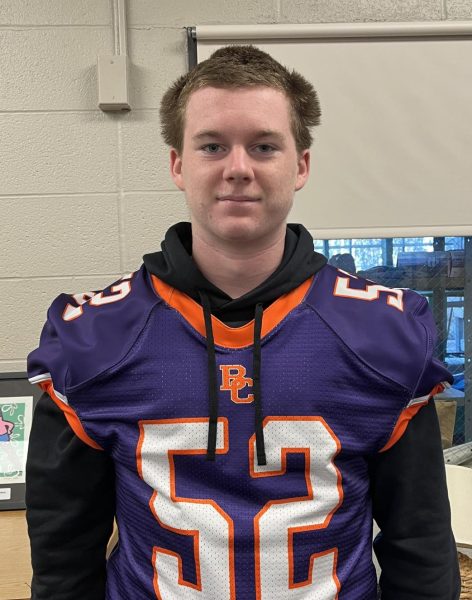 ogether many people, players, and students. 
This Friday marks the first home game of the season for Brentwood, which just so happens to be Brentwood's Homecoming. The community and students alike are excited to show their support for our new football team on our home turf. 
"I'm pretty excited to play at Brentwood," said junior Jack O'Brien. "It just makes you nostalgic. I guess a little bit more of that Friday Night game feel." 
While the team has been wearing the Clayton Greyhound uniform at all of their games so far this season, tonight they will be sporting a brand new purple Brentwood uniform that has orange outlining to give a nod to Clayton as well. 
Come out and support our team tonight at 7 p.m. We hope to see everyone there! The homecoming court will also be announced at the game.