The morning is cool as I click the giant black blob everyone always asks me about–my battery–into my bike to give it power. I pedal out of my driveway, stopping at Brentwood Boulevard with impatient drivers honking their horns. When the light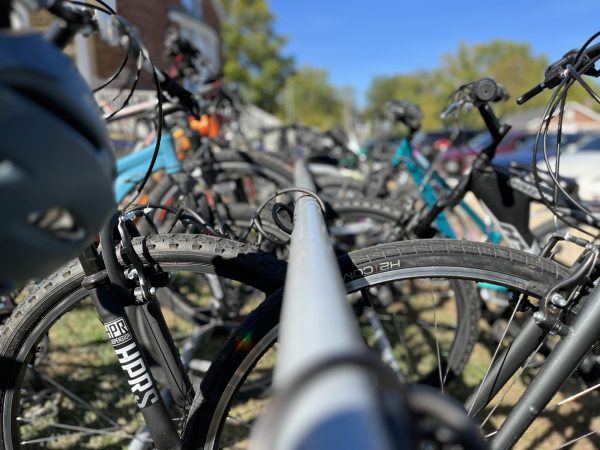 changes, the crossing guard helps me and several other kids – some on bikes, some walking – cross when.
Once at school, even though I'm 20 minutes early, the bike rack is filled. I'm not the only one who has nowhere to park my bike – the ground is already littered with bikes, unprotected and unlocked.
While I would be hesitant to leave any bike unlocked because of how many get stolen all the time in the area, I absolutely cannot leave my e-bike, which is what I use instead of a car. With no options in the bike rack and only minutes left before the first bell rings, I push my bike up the hill of the old Circle Drive entrance and lock it to the fence.
This has been my routine all this year. Even days where I've tried to get to school super early, I've found that I can't find room on the bike racks. Or if I do, there isn't enough space to actually lock my bike.
But it hasn't always been this way. Out of approximately 6 years that I've been riding my bike to school, only now has this become an issue. What gives? Why now?
With most societal trends or at least changes in societal norms these days, my first thought when trying to come up with an explanation is, of course, Covid-19. I'm sure everyone on the planet knows how much the global pandemic affected our "regular" way of life. Shortages became more common, schools had to implement options for virtual classes, and lots of popular yearly events were cancelled. Not all of these changes were bad though. With quarantines and social distancing, people were compelled to spend more time outside and partake in things like bike riding. This became popular particularly with kids who might not have ridden bikes before the outbreak.
"
In fact, according to Felix Richter, a data journalist of the World Economic Forum, consumer spending on bicycles and their accessories peaked in 2021 at $8.3 billion, $7.4 billion more than in 2019 before the pandemic.
Now, as the spread of COVID has slowed down and school has returned back to normal for the most part, we have a surplus of bike riders.
According to the National Household Travel Survey, about 11% of kids across the country ride their bikes to school every morning as of 2022. I wanted to measure these statistics within our school district so I made and released a survey for kids in grades 6-12 to respond to.
Out of approximately 120 responses, about 32% of students ride their bikes to school every morning, the majority being middle schoolers without access to cars. Only about a third of our schools total population responded but even with that our percentage is greater than the national average; not counting the riders that didn't respond.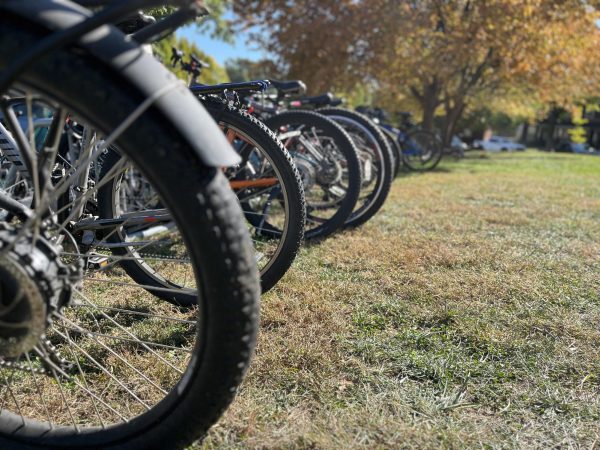 Outside we only have 72 spaces for bikes on the racks, but half of the spaces are so thin that people can't even fit their tires in it, meaning even less space for students to park. Even if it isn't the majority that is still a significant amount of people, especially for how small our school is.
This sudden amount of bike riders has caused an issue for the school in recent times. Because of the large amount of kids riding, it's been hard to dedicate enough space for them to park their bikes during the school day. Eighty-two percent of bike riders asked reported that the bike racks were way too crowded in the mornings when they arrived.
Because of this, only about half of the bike riders total are able to lock up their bikes at the actual racks and have to either lock them up elsewhere or end up throwing them on the ground. This causes not only a huge risk for having a lot of bikes stolen but also for people tripping over bikes on their morning commute, not to mention that the bikes could get damaged in the process.
There has already been several reports of unlocked bikes being stolen in broad daylight, the bikes had been left out on the ground unlocked and unfortunately someone came and took them. I think there is a clear solution here that most people would agree on.
Out of all of the people asked on the survey, regardless of whether they rode their bike to school or not, 75% of them agreed that Brentwood should get more bike racks for our school.
So that's it then, right? Our issue has a solution and everything can be quickly solved with the purchase of a few more racks, or can it?
This issue caught the attention of the administration and I was called in for a quick meeting. Administration is very aware of the issue but they have even bigger plans for the bike riders of Brentwood. I really wanted to help in any way possible so I decided to act as a representative of sorts. There are several ideas being discussed, such as a possible bike repair area, fancy new bike racks, etc.
I think that while this is a problem, it's a good one to have. The fact we have more people riding bikes to school is so good for the environment and just proves how walkable/rideable of a city we have. It saves space for sure and it's great for so many kids to be getting out more.
I think it's important that we keep this trend alive, but to do that the school needs to provide adequate security and space for bike riders. I'm very excited and hopeful for this project and I'm very honored to be apart of it. I really appreciate administration for approaching me with their ideas and involving me in the process. I think that very soon, Brentwood will be a great place for all bike riders. As of writing this story I have yet to meet with all of the people I need to but stay tuned for a part two talking even more about this issue.