Let's Talk Spooky
Brentwood's week long Halloween celebration
Who doesn't love free candy, scaring friends, and staying up late? It sounds like what every high schooler lives for. Halloween is the time for all three, and Brentwood High is going full spooky in celebrating the week of All Hallow's Eve. Looking like they rose from the dead, the students kicked off the week with a Monday Pajama Day.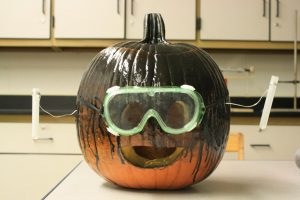 The slathering of slimy substances-or paint-began this day, too, as each advisory started decorating their pumpkins for the pumpkin contest. Everyone was seeing double on Tuesday since friends dressed alike for Twin Day. Each advisory also put their haunting ideas on paper as they accessorized their doors for the door decorating competition. Wednesday was a (color) battle to the death, where
each grade level wore a different ghoulish color. Whether green, purple, orange or black, the grades really strutted the gruesome hues. Thursday, the Halloween day we'd all been waiting for, was full of undead celebrations. The hallways were scattered with characters, animals, creatures, and looks of all sorts. Many couples dressed in matching costumes, like Cody Hughes the Blues player with Lydia Strieker, his Stanley Cup. Mr. Rempel's advisory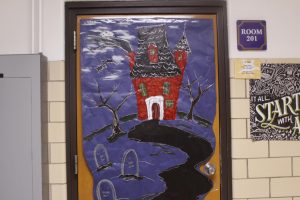 took third place in the decorating extravaganza, Mrs. Smoller's advisory in second, and Mrs. Musterman's advisory stole the number one spot for best pumpkin and scariest door. Kathryn Vanden Hoek, a senior in Musterman's advisory, said her classmates stayed after school to work on their presentations and she's "so proud of the dedication."
One of the best parts of the day was getting to celebrate with the elementary schoolers and their creepy costumes. McGrath and Mark Twain students walked around their buildings to flaunt their creations. Both were attended by high school students and everyone felt all the holiday vibes. Getting in the spirit pumped everyone up for the night and four day weekend. We hope everyone had a ghastly and safe Halloween!