On  September 7th, the Student Council hosted its annual club assembly, where leaders of each BHS club presented information to the student body. There were a handful of exciting new clubs and old stand-bys like the German Club, GSA, and Robotics. Find out more and get involved! To see the entire club presentation, click here!
ESports Club, the second launch
While there was talk to E-sports last year, the club couldn't officially launch. However, it's ready to go this year and is even associated with the Missouri Scholastic Esports Federation. The team has many opportunities outside games, such as the Esports CTE(Career and Technical Education) Challenges. These groups of challenges come from MOSEF, the Missouri Scholastic Esports Federation. The challenges listed include event planning, Graphic Design, Health and Wellness, Journalism, Networking and troubleshooting, programming, shout casting, video editing, and VOD(Video-on-demand review). You can enter a challenge for free and compete with other schools. There are many offers in the E-Sports club at Brentwood. Mr. Parker sponsors the club; see him in the Technology Office if you are interested. 
Mental Health Awareness Club
The Mental Health Awareness Club recommends for someone who likes to help others. Throughout the school year, they create projects to improve the school environment. The projects include putting up mental health posters in the library. Another example is having free snacks during finals and a sidewalk project with kind messages. The club aims to help make Brentwood a better place for all students. The club sponsor is Nurse Russo, and they meet during advisory twice monthly. If you are interested, contact Nurse Russo.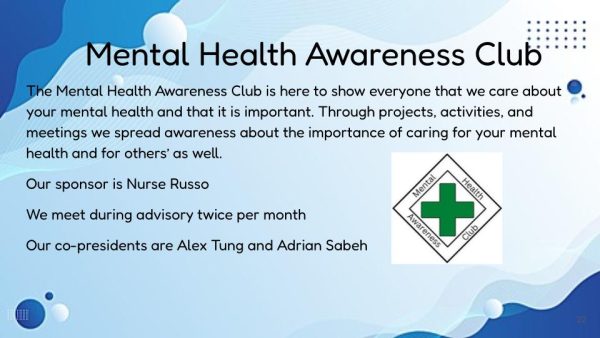 Ukulele Club 
The Ukulele Club is one of the newest clubs at Brentwood. Mr. Davinroy sponsors the club; this is his second year working in the high school building at Brentwood. He is a songwriter and enjoys playing string instruments. The ukulele club is for anybody interested in playing the instrument. You do not need to know how to play a ukulele to join. The club is for anyone who wants to learn, improve their playing skills, and have fun! Meetings will be after school at around 3:05-4 p.m. on Mondays most of the time. Ukelele Club is in room B014; if you are interested, contact Dan Davinroy.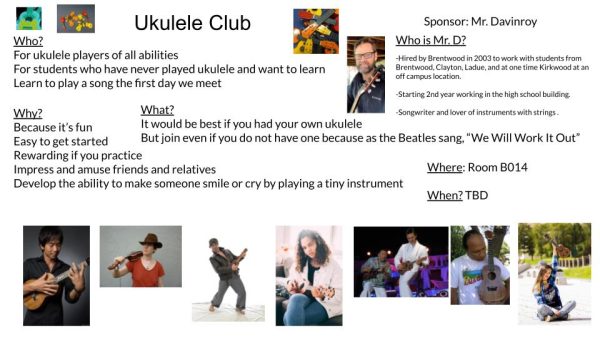 Set Design and Building with Mr. Rieder
Set Design and Building is a club that helps create the sets for theatre. This club allows you to enjoy using tools, painting, designing, or building. It's a great way to try something new. The club sponsor is Mr. Rieder, and it's his second year teaching at Brentwood. Apart from meeting on Saturdays, there is no information on when meetings will occur apart from just after school; if you are interested, contact Zachary Rieder.