The Coffee Crusade: Brentwood's Best Cup of Caffeine
Calling all caffeine junkies, coffee addicts, and java enthusiasts. That cup of Monday morning joe is vital. Let's talk about how to do it right. Now, while the at-home coffee maker cuts it on most days, sometimes you need a little something special to make your day brighter. Reaching for a robust and rich espresso enhanced with a swirl of sweet caramel is a delicious way to go. But, getting to work on time while still snagging that special drink can be tricky. Brentwood has quite a few locations within the neighborhood with their own caramel lattes, right around the corner from your house or workplace. But which is the best? To find out which cup of hot stuff really hits the spot, we tested all seven nearby locations (with our best coffee tasting skills).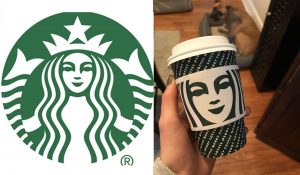 First stop on the coffee crusade, Starbucks. Located within walking distance from Brentwood Middle and High School, it's a perfect stop in a convenient location. While it's not the easiest parking lot to dash in and out of, Starbucks does have an app with an order-ahead feature to make your drop in three times quicker. Their Caramel Macchiato comes in at $4.31 for a 12 oz cup. It was pricey for a small size, and not the most flavorful. The caramel did not stand out and tasted pretty bland.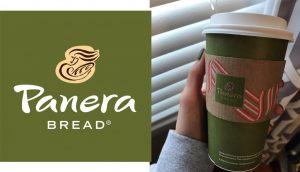 For our second location, we chose Bread Co, just a short walk down the street from Starbucks. Although there is no drive-through option, there is a pre-order option on their website for quick drop-ins, too. For a 16 oz caramel latte, it rings up at $4.40, only nine more cents than Starbucks for four more ounces of joe. This great size and the great taste was a hit combo, with a much sweeter and smoother kick compared to Starbucks. The caramel stood out, as well.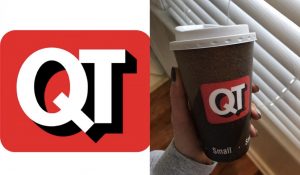 Next, we rolled into QuikTrip. Some people are true multi-taskers, and if you need to get some gas before you clock in, but also need that sweet-treat coffee, then this may be the spot for you. The caramel macchiato was only $1.63 for 12 oz! With a caramel cookie kick, this is definitely a sweet-tooth's dream. Great for those who don't love strong coffee, this goodie has a super sweet vibe. This drink gives the feeling of drinking a dessert.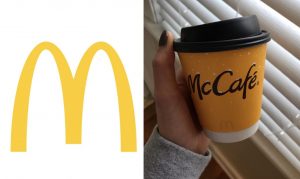 Spot number 4 was the golden arches of all things fast food, McDonald's. Just a quick cut through the industrial courts and you're on your way to singing, "I'm Lovin' It!" They have many drinks on their McCafe menu and even ones with espresso and flavor syrups. Slurping down a 12 oz caramel latte will only cost you $2.20. This latte was not a favorite for us, as it was very artificial and did not taste much like coffee or caramel. McDonald's seems to be known for its black coffee, but the flavored one was not very tasty.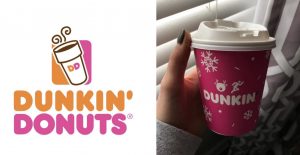 Being what America apparently "runs on," we ran through Dunkin' Donuts. Having their own drive-through, app, and pre-order options, they really make your time accessible. Dunkin' also allows for more drink control if you want to mix up your own flavor creations, too. A small caramel latte is a steal at $3.50, but the taste was not up to par. Having an odd rubber hint and too much sugar, this drink will not be one to reorder.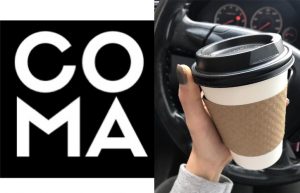 If you'd rather support local, you may have to pay a few extra cents. But, for the support of your neighborhood and a slightly nicer latte, it may be worth the spare coins. Starting with Coma Coffee, hidden across the street from the Galleria, they have ALL the modern coffee swag. Despite no pre-order or drive through, it really is a spot to check out. A latte with caramel syrup is a bit pricier at $4.86, but you pay for high quality. The espresso was smooth and the caramel had a toasted hint to provide a perfect balance of rich coffee with a caramel hit.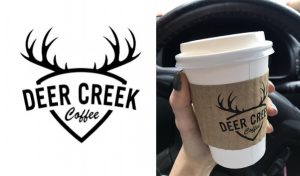 Right down the street is Deer Creek, standing near Maggiano's and Soft Surroundings. Mornings are tranquil back there, with parallel parking usually open right in front of Deer Creek or in the parking lot at the end of the Boulevard. With super friendly workers and many milk substitutions, this really is a hidden gem. The Creek's version of a caramel latte (Caramel Royal) had a happy medium price of $4.37. Their espresso was also more prominent and the caramel a classic yet perfect sweet note.
Whether it's from home or a shop, we all need a bit of caffeine to survive those "hit snooze too many times" mornings. We tried them all and came to the best choice for your fit. Enjoy your caramel lattes, Brentwood!
Cheapest Overall: QuikTrip
Favorite Taste at Best Price: Deer Creek 
Least Favorite Taste: Dunkin' Donuts
Best Bang for Your Buck: QuikTrip 
Quickest Store Experience: QuikTrip