Can You Do the Robot? Robotics Can!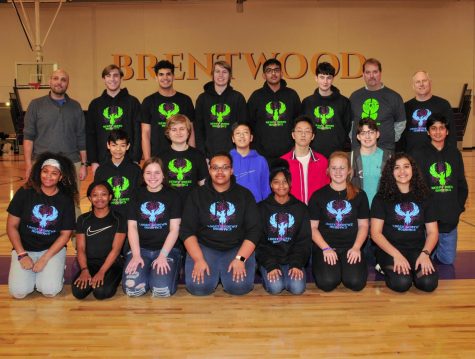 Brentwood is ranked top 10 for academics in Missouri high schools statewide. That being said, BHS is home to several unique and intellectual minds, some of them are a part of the school's very own Robotics Club. The Robotics team performed well this year and was led by Mr. Heinrich, Mr. Hamdan, and Mr. Nikodym. With the season wrapping up and the competitions coming to an end, the club members had a few things to reflect on about the season.
Junior Benjamin Brown is a returning member of the yearly Robotics Club, and he thoroughly enjoyed the season. Brown felt the year went well for the most part, but there were a lot of challenges to overcome due to several new people joining the team. Brown said, "It was kinda hard to get everybody who was new to be familiar with robotics but overall it went pretty good." Brown said it was very difficult to get things done on time and coordinate with everyone, but the team did a great job at problem-solving by getting together and talking to each other. By brainstorming to decide on a good idea, they could efficiently get the tasks done. Although there may have been hiccups throughout the season, Brown felt the team did well at persevering and being able to come up with interesting unique designs for the robot. Each member contributed a little bit, which resulted in a functioning robot. Brown thinks to go into next year, the team can improve by really getting each person involved and that some of the team's previous success came from highschool courses such as Principles of Engineering and Computer Science Principles, which helped with understanding.
Biology teacher, Mr. Hamdan, and junior, Amelia Ayotte, shared similar feelings about Robotics this season. Hamdan and Ayotte felt the team performed pretty proficiently and got off to a slow start, but finished strong in the end. They think the year was kinda hard and there were a lot of technical issues but they eventually came together to reach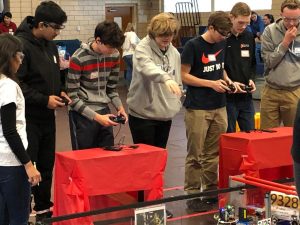 success. In their last competition, the girls placed 20th and the boys placed 17th. Even though it wasn't necessarily the result they may have wanted, the team still was proud of their performance. Ayotte said, "through problem-solving and utilizing the skills learned in Project Lead The Way courses, the squad could truly benefit. Going into next year, the two feel that there needs to be better communication along with a faster start."
Robotics in schools is becoming a more popular activity these days and signs point to the reason being our forever evolving world. With technology's importance increasing in modern life, robotics exercises key skills like creative thinking, programming skills, engagement, teamwork, perseverance, preparedness, and fun amongst the students as the DriveMindGroup explains. Currently, jobs involving the STEM field are the fastest-growing careers and they're even projected to rise another 17% in the next decade. So get involved in PLTW courses, and lend a hand to BHS's Robotics Team to grow those engineering and teamwork skills.